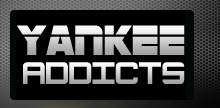 June 10, 2009 · Kate Conroy · Jump to comments
Article Source: Bleacher Report - New York Yankees
Well the Yankees lost tonight 6-5. The team is a game out of first place. Do I dare or for that matter, need to explain why I am so furious? I am going to state the obvious, so bare with me.
It's the Boston Red Sox. The Yankees came to Boston in first place, after last night's victory Boston caught us for a share of the lead and now my Yankees are in second place, with Toronto just a half game back.
Forgot about Toronto Blue Jays pretty fast. So now that that I had to be reminded of the Jays, I almost forgot all about the young and talent Rays catching up is inevitable I predict!
Did Girardi and company think tonight was a good time to test Wang? Obviously, but I sure did not agree. Fact is Wang did win 38 games his last two seasons, which is the most in all the majors.
No one can knock that stat but most of the wins were in our own Stadium and Wang is not as reliable on the road except he is great on astroturf fields but other then the Rays and Texas not to common.
In his first couple of starts this season his ERA was almost equal to his total number of wins over previous two years, his sinker was not sinking like the Wang we know in addition to the speed being slower as well. His broken foot (from running the bases) is fully healed but he seemed like in his first start was an initial struggle he has not broken out of.
My confusion is….what was going through the brain of the Yankees managers when putting Wang in his first game in Boston, against our rivals, during a race to be in first, in one of the oldest ballparks where the grass is as real as Fenway would only have it?
Not much strategy there but who knows and really I can't put the entire loss on one player. Let's not forget how the Yanks have made stranding players on base. It became their M.O. The team seemed to shake that reputation by dominating the past six or seven weeks. Enough to climb up and take the lead, which was well deserved I might add. So what is the problem? 7-0 against Boston has not happened since 1923 and leaving ten stranded on the bases scared me back to the idea that a slump might be inevitable, it sucks all around! I literally felt sick to my stomach tonight watching this game, pacing in front of my TV and I hated every minute of it.
I finally said to myself PLEASE STOP, PAUSE and STOP THERE ARE TOO MANY REASONS TO LOSS FAITH. All of a sudden I felt like the wacko!
Instead I started to think of many reasons why these last two games need to be put in the past asap. Here are just the facts, read them and you will agree! If you don't get what I am talking about you have a lot more problems then being in denial…..
1 – The Yankees are good. Not just good, really, really good this season, period!
2 – Last season we were tied with the Blue Jays both seven games behind Red Sox and the second place Rays. Along with being at an even .500.
3 – Our pitchers and the options are a far cry from the last few years; just need to be used to the best of their ability. Wang's come-back start should have been at home for his own confidence and not against Boston. Look it might have been a disaster, I an not psychic but I think the odds were more in his favor and it might have been better. Also, Joba needs to set-up for Mo and this needs to be tested immediately! Hughes is a better starter than Joba, not necessarily with with the dynamics and power but did we all not witness Mike Mussina last season? Remind me a lot of each other from their pitching to their attitudes. Boston would have been a nice trial for this. There are a lot of people who need to approve of this idea so not as easy as shoving Hughes in the middle? Not true and Joba can always move back it is not dried in cement. Oh and send Wang back down, this is not the time to chance it with him.
Look I do not have ice running through my veins but this team can win and it is sad to watch Wang struggle. In the end this is a team sport and Wang understand that and he is still part of this team just maybe in the middle is a more suitable part for now.
4 – A month ago today….under .500 and 5.5 games back. Obviously been a big, phenomenal is better last month. Lots can change and my Yanks will tie it up again tomorrow.
5 – Josh Beckett was so lights out on Tuesday night any team would have been crushed and I dare anyone to disagree with that.
6 – Tonight the game ended with a score of 6-5. The home plate ump made a few ridiculous calls, example Cano's last at bat strike out was completely ludicrous! I also was considering Wang's first inning disaster and then getting pulled in the second, we are lucky it wasn't worse. Lucky it was Wakefield pitching so it was just a one run win to save some face for christ sake!
7 – The Yankees are a team this season. The definition of team is "People working together in a committed way to achieve a common goal or mission. The work is interdependent and team members share responsibility and hold themselves accountable for attaining the results."
I can see the difference with this group this year and I trust this team will not let us fans down but more importantly each other. I compare it to what being a proud parent when you realized you raised a good kid. Our responsibility as fans will remind our team of this and I am more than happy to take that role on!
8 – Talent wise the Yankees are just as good as the Red Sox. The Yanks know, the Red Sox know it and I know it!
Now I just pray, that the anger and nausea wave I experienced during and after this evenings loss, went away as easily for the players as it did for me.
Here is a message, consider it a slap on the back of your head or a comforting hug. Whatever makes you get all warm and fuzzy inside, I don't really care…..here goes:
"Anyone else who is discouraged, fed-up, hate being in second place to the Boston Red Sox,; mad as if the Yanks are not as good as their division rival, which in turn is getting viewed like a continuing trend that will not become a style (example MC Hammer pants). At least unless it is over my dead body…..We all need to just just chill the hell out ASAP!!
I took my time for you the fans so you don't forget. I laid out only some facts above so if needed read again. Then I promise you will easily breathe again as a fan of the New York Yankees.
Hey 7 are done and 11 more to go against Boston on regular season. Why not use this as motivation to kick their ass, win the division and the new record of beating us 7-0 will be gone like the Red Sox could be…..ahhhhh wouldn't that be nice!!!