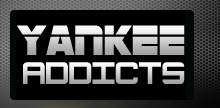 March 15, 2010 · Bronx Baseball Daily · Jump to comments
Article Source: Bleacher Report - New York Yankees
Yankee fans have been aware of Robinson Cano's capabilities for some time. Entering his sixth year in the big leagues, Cano is moving on up…to fifth in the lineup. This was made clear in a recent interview with Joe Girardi.
"He's always been somewhat projected, after his first year, that he would move up in the lineup," Girardi said. "He's got so much ability and tools. Young players, sometimes you want to ease them in, but to me, Robbie's not a young player any more."
Source: Lohud.com
Coming into this season, there was much debate on what the line-up might look like. I think it's fair to say a lot of that debate was centered on recently acquired Nick Johnson and Curtis Granderson. There was speculation on whether Granderson or Johnson would hit in the two-hole in the lineup or the fifth.
Turns out that the fifth spot belongs to Cano. The decision is based on a few factors, one of them being Girardi's looking for a higher batting average in the fifth spot. Cano hit 34 points higher than Granderson.
Some fans may express concern, however, due to Cano's dismal .207 batting average with runners in scoring position in 2009. Cano, however, says he's ready .
"The game of baseball , you always have to keep improving and learning," Cano said. "I feel like I'm one of the guys that has to keep learning and keep improving and show people that I can still play the game."
I'm not going to sit here and pretend that Robinson didn't have a bad year in terms of RISP last season. According to Baseball Reference, the second baseman has a .256 career batting average with RISP and an OPS of .689.
In the end, I believe Cano is due for a big year. Batting fifth, Hitting between A-Rod and Posada should provide Cano plenty of opportunity to prove doubters wrong. He has the potential to be a big part of the Yankees offense this year in a spot held by Hideki Matsui in 2009, a player who excelled in that role for the World Champs.
Related Stories
Read more New York Yankees news on BleacherReport.com