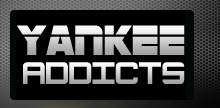 April 10, 2010 · Bronx Baseball Daily · Jump to comments
Article Source: Bleacher Report - New York Yankees
If you were a Yankee fan watching this game, chances are you didn't move for a good two or three innings while C.C. Sabathia put together a great rebound performance after his shaky first start against Boston.
Actually "great" is probably an understatement, since he went 7.2 innings before allowing a single to Kelly Shoppach (who is now forever hated by Yankee fans). Sabathia only struck out five, but was absolutely dominant the whole time he was in the game.
It was a nice payback performance by the big Yankee lefty after Tampa's young promising lefty, David Price, dominated the Yankees last night. Oh and the Yankee hitting was pretty good, too.
After a scoreless first three innings, the Yankees opened the scoring after a Robinson Cano two-run home run, scoring Mark Teixeira who was on first after a walk. The Yankees scored two more runs in the fifth after a Derek Jeter RBI single and Mark Teixeira's first hit of the season, an RBI double.
The Yankees refused to let up, and scored four more runs in t he eighth, a result of a Curtis Granderson single, Brett Gardner groundout, and Francisco Cervelli double. Immediately after Sabathia gave up his first hit, Joe Girardi took him out. His pitch count was up to 111, and he put in David Robertson who got Gabe Kapler to foul out.
In the top of the ninth, the Yankees scored two more unneeded insurance runs after a Cano single and Gardner bases-loaded walk. David Robertson came back out in the bottom of the ninth and got Dioner Navarro to ground out to Ramiro Pena to end the game.
Final Score: Yankees 10 Rays 0
Game MVP: C.C. Sabathia
Notes:
7.2 IP is the longest Sabathia has ever taken a no-hit bid.
After starting the season 0-17 Mark Teixeira was 3-for-3 in his final three at-bats of the game.
Cano, Granderson, and Gardner each had two hits and a total of six RBI between them.
Cervelli: 1-for-3 with two RBI in his first start of the season.
Sabathia: 7.2 IP 1 Hit 0 ER 2 BB 5 K.
Davis: 6 IP 7 hits 4 ER 4 BB 3 K.
W: Sabathia L: Davis
It has now been 3,919 days since the Yankees last no-hitter July 18, 1999 David Cone, perfect game).
Around the AL East:
• Toronto @ Baltimore—7:05 p.m.
• Boston @ Kansas City—7:10 p.m.
Follow me on twitter: SCrociata
Related Stories
Read more New York Yankees news on BleacherReport.com