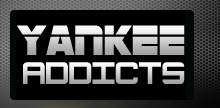 April 19, 2009 · Micheal Robinson · Jump to comments
Article Source: Bleacher Report - New York Yankees
I am not a happy Yankees fan right now and I am sure I am not alone.
After the 22-4 shellacking of the New York Yankees yesterday courtesy of the Cleveland Indians, 24 hours later, it is time to move forward.
Chien-Ming Wang is now 0-3 on the season with a 34.50 ERA after giving up his usual eight earned runs and only going an inning.
I feel for the guy, but the Yankees have to make some changes.
Wang doesn't have any options on his contract so they can't send him down, but possibly a move to the bullpen and the Yankees optioning a reliever down for Phillip Hughes is in order. Anything is worth a try at this point.
Joe Girardi stated that they would make a decision by Thursday on what to do with Wang and what is best for the team.
Today, we ask A.J. Burnett (2-0, 2.70 ERA) to be the stopper again and move to a perfect three wins and zero losses on the season.
This will be the home debut for Burnett, who signed a $82.5 million, five-year contract in the offseason.
Of all pitchers for him to face, Carl Pavano (0-2, 16.71 ERA), a four year bust for the Yankees, will take the mound for the Indians.
Pavano is a former teammate of Burnett when they played for the Florida Marlins.
I can't stress enough how I would feel if Pavano went into the new Yankee Stadium today and shut down the Yankees.
The Yankee bats aren't doing so bad when it comes to the long ball, hitting two more home runs on Saturday to go with the five they hit on Friday.
Mark Teixeira hit a two-run shot in the first inning, his third of the year, to give the Yankees the 2-0 lead, but is only hitting .194 on the season.
Melky Cabrera also connected with a two-run shot, his second of the year.
However, the starting lineup's batting averages need to increase. Currently, only the .391 hitting Robinson Cano and Nick Swisher at .342 is hitting over the .300 mark.
I know its early in the season, but I see this as a must win for the Yankees.
The new Yankee Stadium, the new home, Posada's Palace, whatever you want to call it, needs to be claimed with a big win today against the Indians.