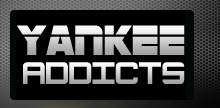 February 21, 2010 · Bronx Baseball Daily · Jump to comments
Article Source: Bleacher Report - New York Yankees
Over about the last month or so we here at Bronx Baseball Daily have been looking at the players expected to be on the 2010 Yankees Roster. We've been evaluating their 2009 season and trying to lay out what the Yankees should expect out of them this season.
Make sure you check out all of our previews. Expecting big things out of a certain player? Don't agree with our assessment of some of the players? Check out our player pages and let us hear your opinions.
Catchers
Jorge Posada
Francisco Cervelli
Infielders
Mark Teixeira
Robinson Cano
Derek Jeter
Alex Rodriguez
Nick Johnson
Ramiro Pena
Outfielders
Nick Swisher
Brett Gardner
Curtis Granderson
Randy Winn
Marcus Thames
Jamie Hoffmann
Pitchers
CC Sabathia
AJ Burnett
Andy Pettitte
Javier Vazquez
Joba Chamberlain
Phil Hughes
Mariano Rivera
Damaso Marte
David Robertson
Alfredo Aceves
Chad Gaudin
Boone Logan
Sergio Mitre
Don't worry, just because our 2010 Season Previews are done for the major league roster doesn't mean we're finished.
Coming up next we're going to run a series of players you might see called up this season and after that we're going to run a final series on other minor leaguers.
You keep reading 'em and we'll keep writing 'em.
Related Stories
Read more New York Yankees news on BleacherReport.com