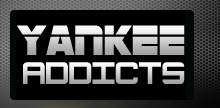 March 29, 2010 · Bronx Baseball Daily · Jump to comments
Article Source: Bleacher Report - New York Yankees
Since the Yankees named Phil Hughes the fifth starter the big question has been what does the future hold for Joba Chamberlain ?
Joe Girardi or Brian Cashman could have quelled the questions right away by saying something like, "He'll be a starter in 2011," or "he'll be a reliever from here on out," or even a simple "we're going to reassess the situation next season," probably would have worked.
Instead we got nothing but speculation and statements from various members of the organization.
First there was the Yankees senior director of pro personnel Billy Eppler who went on WFAN and said that Joba probably wouldn't even be in the running to be a starter next season.
Then we got Yankee pitching coach Dave Eiland who told the Newark Star-Ledger that Joba would not be in the rotation at all this season and that "he's in the bullpen and he's there to stay. Period."
Well it turns out that while these two are trusted members of the Yankees organization and certainly do have input regarding where Joba ultimately ends up, the real power is within Brian Cashman and Brian Cashman alone.
"We haven't had any team meeting and said, 'All right, he's a reliever for the rest of his life,'" Cashman said . "No, we didn't do that. That's never been discussed.
"Listen, if I'm asked the question, I'm not getting into '11. I'm dealing with '10," he said. "So is it possible he can be in the rotation? Yeah, I'd say it's all possible."
The problem with Eppler and Eiland's statements is that there are a lot of unknowns going forward. For instance the Phil Hughes might not work out in the rotation. There is also the impending free agency of Andy Pettitte and Javier Vazquez.
There are also unforseen possibilities like injuries or trades that may occur to change things. The bottom line is that the there are too many unknowns and until the Yankees can figure those unknowns out, there will be no answer to the question of what the future holds for Joba.
"It sounds like the Joba starter-relief thing will be forever," he said. "How about we just add the little word to the shirt and have a new shirt—Joba Rules Forever. Leave it like that."
Related Stories
Read more New York Yankees news on BleacherReport.com