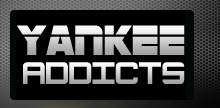 June 25, 2009 · Perry Arnold · Jump to comments
Article Source: Bleacher Report - New York Yankees
New York Yankees general manager Brian Cashman changed travel plans yesterday.
Instead of traveling to take in a minor league game and watch prospects in his system, Cashman took a plane to Atlanta and unexpectedly dropped in on his struggling major league team.
Cashman stepped into a hitters' meeting and also took part in a closed-door session with manager Joe Girardi that included slumping outfielder Nick Swisher.
Cashman denied that he had brought an ax to Atlanta and spoke out publicly in support of both Girardi and hitting coach Kevin Long.
But New York has lost nine of its last 13 games. Except for an inexcusable error by Mets second baseman Luis Castillo, there would have been one more loss during that phase.
During that time the Yankees were hitting less than .220 as a team.
Cashman blamed the losing streak on the offense but said that he did not plan on bringing in any new players by trade.
"The answers are already here," Cashman said. He also reiterated that he knows teams go through slumps and knows that the bats will get hot again.
But none of that can explain why he chose this time to change his plans and visit Girardi and the Yankees.
On Friday, the Yankees will be in New York to face the Mets at Citi Field. Cashman could have saved some of his frequent flyer miles for another occasion.
So there have to be questions in the air. One must ponder why Cashman chose this particular time to drop in on his team.
Girardi said afterward that he knew what the expectations were and that the responsibility rested with him to win or "go home."
It is unlikely that management will continue to see the team struggle and fall farther behind in the American League East without any changes being made.
Cashman has been open to criticism on some fronts for his decision two years ago to take the team on a "Youth Movement" track.
In the winter of 2007 Cashman reportedly had opportunities to acquire ace left-hander Johan Santana from the Minnesota Twins, but he refused to do so because the Twins were demanding two of the young pitchers that Cashman had placed so much hope on.
As the 2008 season started, the Yankees had Phil Hughes and Ian Kennedy in the starting rotation, and both failed miserably.
After that debacle, Cashman went into the 2008 postseason determined to improve his staff and signed free agent studs CC Sabathia and A.J. Burnett to long-term deals.
But Cashman also brought in Nick Swisher in a trade with the White Sox. Utility infielder Wilson Betemit was sent to Chicago, and it appeared at the time that Swisher would become the Yankees' first baseman.
But Swisher had hit only .219 for Chicago last season, and Cashman was openly criticized for replacing popular first baseman Jason Giambi with Swisher.
Swisher never got the chance to start at first after Cashman signed free agent slugger Mark Teixeira to play first.
But Swisher has been a regular most of the season in right field after Xavier Nady went down with an arm injury.
Swisher was very hot early but has slumped dramatically since the middle of May. He is currently hitting .240.
Swisher had originally been left out of the starting lineup for last night's game against the Braves. But apparently Swisher went to Girardi and persuaded the skipper to insert him in place of Melky Cabrera in the outfield.
Cashman was a part of that meeting, but it is unknown to what extent he participated in the decision to put Swisher in the lineup.
Cabrera was reportedly upset that he had been replaced. Cabrera has been one of the most consistent Yankees this season and has had a number of clutch hits.
Yankee announcers Michael Kay and Ken Singleton talked at length during last night's game about Cabrera's unhappiness at being removed from the lineup.
Sitting a regular in a situation such as the one the Yankees had last night is often an indication that the player is being traded and protected from injuries until the deal is finalized.
There weren't any rumors of a Cabrera trade, though, and he appeared late in the game after the Yankees used a double switch when a pinch hitter was needed for the pitcher.
Despite Cashman's denial of any changes coming to the team, his presence in Atlanta has to have some significance. If the team continues to struggle, changes will have to be made. Cashman may have set some deadlines for improvement that have not been made public.
That will probably only be known if the team continues to lose ground to Boston in the East.