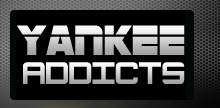 April 21, 2010 · Bronx Baseball Daily · Jump to comments
Article Source: Bleacher Report - New York Yankees
Earlier in the day I wrote about former Yankee pitchers Edwar Ramirez and Chad Gaudin getting their rings yesterday and I wrote that the Yankees really haven't let everyone know when they'll be getting their rings.
I certainly wasn't foreshadowing anything, but earlier today Xavier Nady got a nice surprise when the Yankees general manager Brian Cashman showed up at Citi Field before the Cubs, Nady's current team, took on the Mets and gave him him his ring.
Cubs outfielder Xavier Nady received his 2009 World Series ring on Wednesday when Yankees general manager Brian Cashman delivered the prize to Citi Field before Chicago faced the Mets.
Nady said he had no idea when he was going to get the ring. He praised Cashman for bringing it over himself.
Nady played in seven games for the Yankees last season. He went on the disabled list in April with an injured right elbow that eventually required ligament replacement surgery. He signed a $3.3 million, one-year contract with the Cubs in January.
Thoughts : It was very cool that Cashman showed up himself to present Nady with the ring and it is much cooler that the ring wasn't just mailed to him. He wasn't a big part of this team, but I think it goes a long way to say that he was appreciated while he was here no matter how small the contribution.
Related Stories
Read more New York Yankees news on BleacherReport.com