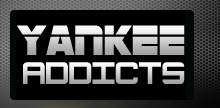 February 19, 2010 · Perry Arnold · Jump to comments
Article Source: Bleacher Report - New York Yankees
The New York Yankees opened their spring training camp in Tampa yesterday.
Brian Cashman was quoted defending his reshuffling of the outfield, including the signing of Randy Winn instead of former Yankee Johnny Damon.
Cash said that when he had traded Austin Jackson to get Curtis Granderson, after trading Melky Cabrera to get Javy Vazquez and after being unable to re-sign Damon, he had to bring in a large number of outfielders to restock the shelves.
Joe Girardi was interviewed by ESPN's Baseball Tonight crew and talked about the way in which he will treat the starting pitchers, about the short offseason with the World Series going into November, about how much better it is to have Jorge Posada and Mariano Rivera coming to camp without worries about their health, and about how much he feared Granderson when playing in Detroit last season.
Girardi also discussed the competition to win the fifth starter's spot in the rotation, as did pitching coach Dave Eiland in several interviews.
Girardi gave interviews to newspaper writers covering the team in Tampa, but at no time did any of the Yankee brass discuss Brett Gardner.
It has been apparent for a long time that Girardi desperately wants Gardner as the center fielder for the 2010 season, and he deftly avoided talking about the issue yesterday.
Unless Gardner falls completely on his face this spring, he will be the starting center fielder for the Yankees on Opening Day in Fenway Park.
And there is no reason to believe Gardner will collapse this spring. Last year in preseason camp he hit about .375 and won the starting job as center fielder.
Certainly the Yankees and all Yankee fans want Gardner to succeed and prove that he can fill the full-time job as Yankee center fielder.
The need for Gardner in center is especially keen considering Curtis Granderson's glaring career inability to hit left-handed pitching.
While Gardner was held out against lefties late last season and had only 55 at-bats against southpaws in the entire 2009 season, the Yankees truly have a need for him to perform at the plate.
Gardner has superior range in the field. His arm is only average at best. But he can overcome many problems other fielders would have with his speed.
For all these reasons, Gardner will be given every chance to be the regular Yankee center fielder.
And Girardi will avoid the subject like the plague as he did yesterday.
Read more New York Yankees news on BleacherReport.com