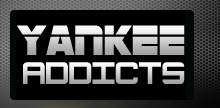 April 5, 2010 · Perry Arnold · Jump to comments
Article Source: Bleacher Report - New York Yankees
Brett Gardner had a great game for the New York Yankees on Opening Night in Fenway Park.
Against the Yankees' primary nemesis, Gardner was 2-for-4 at the plate with an RBI and a run scored.
This was very good news for Gardner and the Yankees, as his offense has been a question mark. But last night he was aggressive at the plate and on the bases, and he was valuable despite the Yankees' ultimate 9-7 loss.
In his first two at-bats Gardner slashed singles to left field. It was what he did after his second at-bat that was spectacular.
Gardner was on first as Derek Jeter came to the plate. Jeter hit a seeing-eye single back up the middle. The ball did not get very far into the outfield, and Jacoby Ellsbury closed on the base hit quickly.
But Gardner never hesitated. He was running with Jeter's swing, never slowed at second, and slid into third base well ahead of the throw. Not many players would have had the instincts to make that play, and almost none have the speed to carry it out.
It was important because immediately after that, Jeter took off from first. When BoSox catcher Victor Martinez paid no attention to Gardner on third and threw through to second base, Gardner easily stole home.
In a game-time interview on ESPN, Yankee manager Joe Girardi was asked if he had the double steal on in that situation, and he said, "No." He indicated that the players are on their own to steal when they think they can.
That means that Jeter believed he could run on Martinez. But it does not explain Gardner's flight home. That requires further study.
Again, Gardner made a heads-up and instinctive play to steal home. It would have made no difference if the Sawx had put on a play to cut the ball off short of second and try to gun down Gardner at home. He was off instantly and would have been safe no matter what Boston did.
That kind of play is what will keep Gardner as a regular. If he can get on base and show the type of instinct and daring he did last night, he will be a truly valuable asset for the Bombers.
Gardner also made one very good play deep in the left field corner. That corner can be a nightmare for outfielders with barely a foot of foul ground wedged in between the Monstah and the left field stands. There is also a door that creates an opportunity for pinball action.
But Gardner fielded the ball cleanly and threw back to the infield, preventing an extra base being taken.
In another chance Gardner was not as clean. With J.D. Drew on second base and two out, Marco Scutaro hit a ball to Gardner. Drew had been off with the pitch, so Gardner had no realistic shot at throwing him out at home.
But Gardner airmailed the throw well over A-Rod's head at third. The ball sailed up the line and would not have been within 40 feet of home plate. The throw allowed Mike Cameron and Scutaro to move up a base and created a situation where a base hit would have scored two runs.
It did not cost the Yankees, as Ellsbury made the third out. But it was a play you should not expect from Gardner, who has been praised for his defense just as he has been questioned for his offense.
ESPN analysts tried to attribute it to the kind of play that comes in a first game situation. One might better attribute it to the fact that Gardner has never played much left field and Girardi continued to move him around and play him in center even after the spring training decision had been made to play Curtis Granderson in center and Gardner in left.
Gardner should have been getting as many reps in left as possible, something Girardi apparently did not understand. But all in all, Gardner did a good job on defense.
His offense was stellar as well. Gardner can stick as a regular if he continues to play as he did on Opening Night.
Read more New York Yankees news on BleacherReport.com