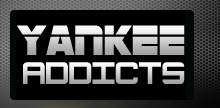 April 25, 2010 · Perry Arnold · Jump to comments
Article Source: Bleacher Report - New York Yankees
One-tenth of the New York Yankee season is gone. The team is 12-5. One of the greatest surprises of the new season is Brett Gardner.
Having been given the starting job out of Spring Training in 2009, Gardner could not hold it. He was unable to show a consistent ability to hit major league pitching last year.
But this year, at least so far, Gardner has been fantastic.
In yesterday's win over the Los Angeles Angels of Anaheim, Gardner was once again starting in left field. But there was a major change in his place in the batting order.
Usually Gardner hits ninth. But yesterday, with slumping Nick Johnson sitting out with a "back injury," Gardner was pushed up to the two hole behind leadoff hitter, Derek Jeter.
Gardner responded with one of his best games of the year, going 3-5 with a triple, an RBI, and a stolen base. He finished the game hitting .340.
In the series opener against the Angels on Friday night, Gardner had gone 1-3.
Gardner had not proved in the past that he was a major league player. But through the first 10 percent of this season, Gardner has played as though he were an All-Star.
Read more New York Yankees news on BleacherReport.com