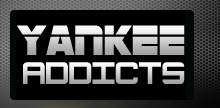 April 22, 2010 · Perry Arnold · Jump to comments
Article Source: Bleacher Report - New York Yankees
Brett Gardner continues to produce, at least against right handed pitching.
In last night's win for the New York Yankees against the Oakland Athletics, Gardner was 2-3 with a walk and a run batted in. What is more, the RBI came with two outs in the ninth. The Yankees held a precarious one-run lead after Phil Hughes had taken a no-hitter into the eighth inning, and Gardner's RBI added an insurance run.
Gardner was less impressive in the opening game of the three-game series in Oakland on Tuesday night when he went 0-3 against a left handed pitcher.
But Gardner is hitting .333 over the Yankees first 14 games and deserves to be the regular left fielder at this point.
Joe Girardi should abandon the idea of platooning Gardner with Marcus Thames and let Gardner decide his own fate. That seemed to be what Girardi did on Tuesday night with less than good results for Gardner.
But Girardi's decision Tuesday was colored to some degree by the minor league experience Gardner had against Gio Gonzalez. Gardner had faced the southpaw a number of times in the minors and had a good average against him.
What happens today when the Yankees face tough lefty Dallas Braden, who is 2-0 this season?
If Girardi starts Gardner this afternoon against Braden it will indicate he is truly giving Gardner a chance to be the full-time outfielder. If he starts Marcus Thames it shows he doesn't fully trust Gardner and is inclined to stick with his platoon "strategery."
Read more New York Yankees news on BleacherReport.com