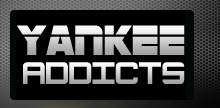 April 11, 2010 · Perry Arnold · Jump to comments
Article Source: Bleacher Report - New York Yankees
Brett Gardner had another great game in the New York Yankees' 10-0 win over the Tampa Bay Rays yesterday.
The only thing Gardner could not do was catch Kelly Shoppach's base hit to left field with two outs in the eighth inning that broke up C.C. Sabathia's bid for his first career no hitter.
It may have been academic anyway, since manager Joe Girardi has said since that Sabathia would not have gone back out for the ninth inning even with the no hitter still in place.
Girardi and pitching coach Dave Eiland thought Sabathia's pitch count was already too high for this early in the season.
But Gardner played another superior game. He was 2-4 in his official at bats, had a walk in another plate appearance, stole second for his third stolen base of the year and drove in two runs.
Gardner finished the game hitting .385. It remains to be seen whether Gardner will get the job as the regular left fielder and be given the chance to hit against left handed pitching.
So far, Girardi has chosen to bench Gardner in two of the Yankees' five games against strong left handed pitching from Jon Lester in Boston and against young Rays' phenom, David Price Friday night.
Read more New York Yankees news on BleacherReport.com