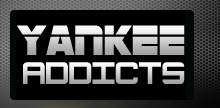 April 7, 2010 · Perry Arnold · Jump to comments
Article Source: Bleacher Report - New York Yankees
After getting two hits in the season opener on Sunday night, Brett Gardner did not start in Boston last night.
Not only had Gardner gotten the two hits, he also made two very good baserunning plays, going from first to third on a Derek Jeter single that did not get very far into left-center field and stealing home easily when Jeter broke for second.
But for reasons that can be found only in the dark recesses of Joe Girardi's mind, Gardner did not start the second game of the season.
Anyone who reads my posts on this site knows I am not a fan of Brett Gardner. I am even less a fan of Joe Girardi as a manager.
Girardi has recently said that he wanted to try to put the same basic lineup on the field every day.
Yet he broke that vow in the second game, when he not only started Marcus Thames over Gardner, but also hit Curtis Granderson in the nine hole.
He said that Thames was one of the players that had been brought over who hit really well against left-handed pitchers. But Thames's career average is .256.
Gardner did pinch hit for Thames in the sixth and got one other at-bat in last night's game. He had a single in his two at-bats and is now 3-for-6 for the season.
But you truly have to wonder what Gardner must have been thinking when the lineup card was posted and he wasn't on it.
"What do I have to do?"
"What does Girardi expect?"
"Does Girardi remember that I hit .290 against lefties last year?"
One of the big problems I have with Girardi is that he simply cannot leave well enough alone. He cannot overcome his control issues and realize that the game is not about what the manager does. It is about what the players do.
And when a manager like Girardi extols the virtues of Gardner and talks about all the things he adds to the team and then benches him in the second game of the season after he had had a great game in the opener, it has to affect Gardner's mindset.
I know everyone is going to say, "Gardner's a professional. He understands why the manager does things like this."
No, that is not the answer. Athletes have much more fragile psyches than bodies. I don't know Brett Gardner personally. But after being given the starting job in 2009 and then seeing it passed to Melky Cabrera, then winning a starter's role again this year only to learn that it lasted one day, this has to affect Gardner.
Girardi needs to stop fiddling with this team and give Gardner a real chance to prove day in and day out that he either can or cannot be a regular. If he can't perform then make him a bench player and use his speed and defensive skills strategically.
But you aren't going to know whether he can be a regular if you treat him as Girardi did yesterday.
Read more New York Yankees news on BleacherReport.com