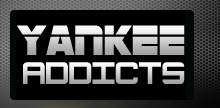 February 17, 2012 · Rick Weiner · Jump to comments
Article Source: Bleacher Report - New York Yankees
Holding the door open for CC Sabathia and his agent, Brian Peters, is kind of a surreal experience. On one hand, it's simply being polite—I tend to hold the door open for anyone who is walking into or out of the same door that I am.
On the other hand, you can't help but say to yourself, "That was CC Sabathia that just walked in the door."
Sabathia, for those who don't know, is kind of a big deal.
But that is exactly what happened yesterday when Sabathia and Boston Red Sox 1B Adrian Gonzalez, a big deal in his own right, were at the Sony Style Store in Manhattan to preview Sony's newest video game, MLB 12: The Show, due out in stores on March 6th.
Bleacher Report was there and we sat down with the two superstars for a few minutes to talk baseball, video games, and the upcoming 2012 season.