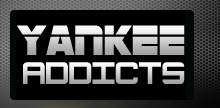 June 10, 2009 · Jordan Schwartz · Jump to comments
Article Source: Bleacher Report - New York Yankees
Welcome to the latest edition of Bombers Banter, the New York Yankees round table. As the Bombers battle Boston for the division lead and the best record in the AL, we look ahead to interleague play and discuss the Yanks' abundance of starting pitching, as well as the new Stadium.
If you would like to take part in future Bombers Banter discussions, post your e-mail address on my bulletin board.
1. Chien-Ming Wang had a rocky return to the starting rotation last week. Did the Yankees make the right decision by reinserting him in the rotation and moving Phil Hughes to the bullpen?
AJ Martelli: I think they made a difficult decision in moving Phil Hughes to the bullpen. He wasn't pitching incredibly poorly, but they saw improvement in Chien-Ming Wang and opted to 'pen Hughes. Wang still has to get himself up to par.
He wasn't spectacular against Texas, but we'll see how he fares in his upcoming starts. His game against Boston tonight will tell us something about whether or not it was a good move.
Stephen Meyer: We will find out more today, but it appeared as though Hughes can be downright electric out of the bullpen if given time to adjust, while Wang is not made for short relief (an area the Yankees clearly struggle in).
I want Hughes to be a starter, but he can help this team in the 6th-8th innings right now.
Jordan Schwartz: I agree with moving Hughes to the pen in order to make room for Wang. Wang was terrible in his first three starts, but showed improvement working out of the bullpen after his injury and was a little better in his first start last week.
The Yankees hope to see an even better start tonight against the Red Sox, but I think you have to give Wang a couple more chances because he has the proven track record of an ace (46-15 over the previous three seasons).
Hughes, meanwhile, can be a valuable asset to the bullpen. He looked good pitching a scoreless seventh against Tampa Bay on Monday and could fill a number of roles out of the pen before possibly returning to the rotation next year in place of Andy Pettitte.
Marisa Scolamiero: I think the Yankees had no choice but to try and let Wang get himself figured out in the rotation. They've invested in this guy as a potential number two starter, and to leave him in the bullpen is unproductive. Wang has proved that he can be very successful as a starter, but for a variety of reasons seems to have forgotten about that. Hughes hasn't been dominating as a starter, but I think he was starting to get in a rhythm when they put him in the bullpen. He's really been great out of the bullpen, and I think it's better for him to stay there than go back to Scranton. However, if Wang can't get it together soon, Hughes may be back in the rotation sooner rather than later.
2. The new Yankee Stadium is being criticized for its high ticket prices, disappointing attendance and inflated home run numbers. What's your opinion of the new ballpark in the Bronx?
AJ Martelli: I've been to the new Stadium twice so far, and it is a wonderful place. They did a nice job of carrying over the history from the old house across the street. The ticket prices should certainly be adjusted.
The attendance is suffering because of the ticket prices, and management should consider lowering the cost. It's too expensive to go to a game these days. As far as the home runs go, I have no answer for that.
I find it strange that balls are just sailing out of the park. But at least it works in the Yankees' favor most of the time, as we've seen with all the walk-off wins and pies to the face this season.
Stephen Meyer: I have been to the stadium six times thus far, and have never once paid more than $20 for any ticket purchased. There are countless seats all over the stadium that are affordable, and the "average fan" cannot pretend they once sat behind the dugout.
The seats are outrageously priced now, but were still $150-350 in the old stadium. A family of four never could have afforded to sit in those seats then or now.
Jordan Schwartz: It's funny; I never wanted the Yankees to leave the old stadium, but now I find myself defending the new park when people criticize it. I've been there five times and it's definitely gorgeous.
The giant screen in center is incredible and it's a lot easier to walk around and exit after a game.
Still, the organization needs to make a couple of adjustments. It is disappointing to see the team averaging just 44,762 fans a game this year when they were drawing 53,069 in 2008.
Attendance is down across baseball because of the recession, but I think the Yanks could lower prices a bit to get more people in the seats. And what's wrong with inviting some people down to fill those seats behind home plate to make the stadium look better on television.
The second thing is the home runs. They're fun, but too many challenges the integrity of the game and I don't want to see the Yankees swinging for the fences all the time because they'll need to play small ball at bigger parks on the road.
The organization should figure out what's causing this jet stream and try to fix the problem this winter.
Marisa Scolamiero: First off, I think the new ballpark is absolutely beautiful. It is designed well with every amenity a fan could want. I love that the field looks exactly the same as well as the state of the art technology like the outfield screens and out of town scoreboard. That being said, I do think that the prices of tickets are way too high. I was talking to a guy at the old stadium last year who had four seats about 25 rows behind home plate off to the left a little bit for $95 each–currently those seats are $300 a ticket. To see so many empty seats in the lower level at the new stadium is awful. I don't know how the organization thought they were going to get people to pay for seats that expensive. That's why they had no choice but to lower a lot of their prices, but they would've been better off if they hadn't raised them so high.
3. After leading the Yankees to their first postseason miss since 1993, Joe Girardi has his team among the top clubs in baseball this season. How would you evaluate the skipper, now in his second year at the helm?
AJ Martelli: Joe Girardi has done a fantastic job so far this year. I think the main thing was getting the first year out of the way. He tested the waters last year, and in all fairness he dealt with losing the ace of his pitching staff in '08. Now in '09 he has a horse in CC Sabathia, a guy who can go seven innings in A.J. Burnett, and a healthier group of players.
He still occasionally makes strange decisions, a la walking Evan Longoria when Mariano Rivera said he was able to pitch to him, but overall he's done well. This season to this point, I would grade him B+.
Stephen Meyer: I still believe that this team is winning in spite of him instead of because of his managing. He has made countless questionable decisions, and appears to be clueless at other moments of games.
I will give him credit for allowing a looser and less businesslike clubhouse, however, as it has helped to develop a strong team chemistry. Girardi is as much responsible for the "team-first" attitude in the locker room as anyone.
Jordan Schwartz: I think he's done a much better job this year than last and I'm not just saying that because the Yanks have a better record. He's letting his starters go higher into their pitch counts (certainly aided by the addition of CC Sabathia) and the team is playing more small ball.
Last year, they were eighth in the AL in sac bunts but right now, they're sixth.
Marisa Scolamiero: I love what Girardi has done. Especially this season, Girardi is promoting a loose, relaxed club house filled with lots of laughter and players' family members. All of those things are helping his guys play better, and that is translating into success. I do think that sometimes Girardi's management of the bullpen leaves a lot to be desired. One would think that as a former catcher, Girardi would have a better understanding of pitchers, but I think sometimes match-ups and other statistical factors get in his way. Overall though, I think Girardi has been very good for the team.
4. Who has been the biggest surprise for the Yanks so far?
AJ Martelli: I think it has been Melky Cabrera. He was a player who had struggled so much in '08 that they sent him packing to the minors. He wasn't the starting center fielder at the beginning of the year, and he has come to be a force in the lineup.
Those clutch, walk-off hits of his are something I'm sure no Yankee fan expected from him, and he has proven that he is capable of being a major leaguer.
Stephen Meyer: Melky Cabrera without a doubt. Five game-winning hits for a man left for dead within the Yankees organization? With the injury to Xavier Nady and early failures of Brett Gardner, Cabrera helped to stabilize this team and offense.
Jordan Schwartz: It has to be Melky Cabrera. After hitting just .249 with eight homers and 37 RBIs in 2008, Cabrera has already clubbed six home runs and driven in 23 to go along with a solid .292 average.
After the Yanks didn't resign Bobby Abreu this past offseason, I thought the outfield was the biggest question mark coming into 2009. Things got even worse when Xavier Nady went down with an injury, but Cabrera's contributions have helped solidify that outfield.
Marisa Scolamiero: I don't think there could be just one surprise player. Johnny Damon has been so dependable for the Yankees. He's shown more power at the plate than in years past, and it seemed like when the rest of the lineup was struggling, Damon was there to pick up his team. Melky Cabrera has also been a bit of a surprise this year. He had a subpar year last season, and lost his starting job to Brett Gardner, but Melky has shown that when called upon he can deliver and in the clutch. He has regained his starting role in the outfield, and has been providing the Yankees with plenty of walk off and clutch hits. Phil Hughes has looked a lot better this season, and Francisco Cervelli has also been great for the Yankees while Posada and Molina were dealing with injuries.
5. Interleague play is here again and the Yankees are set to play the Mets six times in the next two weeks. Are you a fan of interleague play or should it be altered in some way or even eliminated?
AJ Martelli: Interleague play is something I am on the fence about. I like when the Yankees play the Mets because it shows a bit of competitive nature between the New York sports teams, and there are bragging rights that go along with it.
I have friends and family who are Mets fans, and when they play each other, it's really fun to watch the games with them (especially if the Yankees win). But as we saw last year it can be dangerous.
The Yankees lost Wang for the rest of the year when he stumbled running the bases in Houston. The interleague concept in so unfair to the American League because the pitchers who don't normally bat have to step up to the plate.
The DH rule should just be instated in the National League.
Stephen Meyer: I am an enormous fan/proponent of interleague play, and feel that it is a brilliant addition to the Major League schedule. I will, however, voice a strong displeasure for forcing AL teams to play on the road in NL parks for extended periods of time, as it eliminates a key part of their roster plan (DH).
For a 3-game series it is not at all a problem, but when stretched over a full week, it begins to bother rhythm and consistency.
Jordan Schwartz: As a baseball purist, I shouldn't like interleague play. But I have to be honest, it's a lot of fun. My girlfriend is a big Mets fan, so I'm looking forward to winning the bet we have on the upcoming series, but there are some problems with interleague play.
Teams in the AL East might have a tougher NL schedule than teams in the AL Central, so that comes into play when battling it out for the Wild Card. Also, the two leagues need to come to an agreement once and for all on the DH rule.
I think the AL should get rid of it, but I'd be happy if it was uniform one way or the other in both leagues.
Marisa Scolamiero: I like interleague because you get to see teams and players that you don't normally get to see. My only problem is I don't like an AL team having to play 9 games in a row in NL parks. AL pitchers aren't used to having to hit, and Yankee fans saw how a pitcher running the bases could devistate a season. If NL teams have to play 9 games in a row in an AL park, it's almost to their advantage. They don't have to deal with their pitcher trying to hit, which a lot of people see as an upside. If anything were to be altered for interleague play, it should be that, otherwise I think it's fine.
Jordan Schwartz is Bleacher Report's New York Yankees Community Leader. His book "Memoirs of the Unaccomplished Man" is available at amazon.com, barnesandnoble.com, and authorhouse.com.