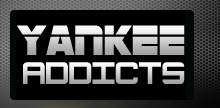 April 25, 2010 · Harold Friend · Jump to comments
Article Source: Bleacher Report - New York Yankees
August 10 was the highlight of the 1969 season for New York Yankees fans.
New York's other team, the beloved New York Mets, would not have its greatest moments until October.
The day that Bobby Murcer, Thurman Munson, and Gene Michael hit consecutive home runs in the sixth inning against Oakland made a pedestrian New York Yankees season memorable.

The Yankees finished fifth, a whopping 28-and-one-half games behind the Eastern Division champion Baltimore Orioles, but the Yankees had their moments.

Gene Michael's Home Run Was a Surprise
Bobby Murcer led off the Yankees' sixth inning with a shot into the right field bleachers.

Thurman Munson, playing only his second major league game, hit right-hander Lew Krausse's pitch into the left field seats, bringing up the offensively-challenged Gene Michael, who was an outstanding defensive shortstop, but who hit little and rarely.
No one gave Michael much of a chance of making it three consecutive home runs for good reason. He had hit only one home run during the season, and had hit only one other home run in his career.

Of course, Michael, on a 2-0 delivery, hit a drive into the right field seats.
The Yankees Had Hit Three Successive Home Runs Before
This was not the first time the Yankees hit three successive home runs.
Bobby Richardson, Mickey Mantle, and Joe Pepitone did it in 1966 and in 1947. Charlie Keller, Joe DiMaggio, and Johnny Lindell accomplished the feat.

Only Richardson's and Michael's home runs were surprises, although the 1960 Pirates discovered that Richardson had some power.
The "M & M & M" Boys
Mickey Mantle and Roger Maris were dubbed the, "M & M" boys, when they pursued Babe Ruth's single season home record in 1961.
Mantle dropped out due to an infected hip, as Maris eclipsed Ruth's mark when he hit his 61st home run, a record that still stands.

When Murcer, Munson, and Michael hit three consecutive home runs, the Yankees' announcers and fans had great fun in referring to the "M & M & M" boys.
The fact that the only legitimate home run hitter was Murcer made it even better.
Joe DiMaggio, Charlie Keller, Reggie Jackson, Hank Bauer, and Tony LaRussa
August 10, 1969 was a Sunday. Saturday had been the Yankees' annual Old Timer's Day.
Joe DiMaggio and Charlie Keller were on hand when the "M & M & M" boys hit their home runs.

Another Yankee great, who was not yet a Yankee, was also in attendance. He was playing in the outfield for Oakland, going hit-less in three at-bats.
Yes, it was Reggie Jackson.

In the seventh inning, with the A's trailing 5-1, Oakland manager Hank Bauer, sent up a pinch hitter.
Tony LaRussa flied out to right field.
The Greatest Game in the World
It was a memorable day, especially when one looks back and realizes all that occurred.
The twists and turns of baseball are a template for the twists and turns of life, and baseball fans realize that fact.
No matter how much those who play the game, and those who run the game do things that are an anathema to decency, the game will remain the greatest game in the world.
References
Eskinazi, Gerald. "Munson, Murcer, and Michael Hit Successive Homers as Yankees Rout A's, 5-1." The New York Times . 11 August 1969, p.40.
Read more New York Yankees news on BleacherReport.com