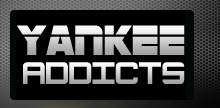 December 29, 2009 · Harold Friend · Jump to comments
Article Source: Bleacher Report - New York Yankees
Ed Rand has rooted against the Yankees all his life.
He recently became ecstatic, or least extremely pleased, when he read an article in an old baseball magazine about how Bob Cerv was sent to Kansas City and how the Yankees' reject almost won the 1958 American League Triple Crown.
Pure Fiction
There is an often-told story about Bob Cerv, which like many of the Yogi Berra stories, was fiction created by a baseball writer.
The story is that Cerv was sitting alone on the bench at Yankee Stadium when manager Casey Stengel sat down next to him to inform him that the Yankees had obtained the services of Enos Slaughter from, of course, the Kansas City Athletics.
"Nobody knows this, but one of us has been traded to Kansas City."
Cerv looked around to make sure that Casey was speaking to him.
It is pure fiction. Bob Cerv was sold to Kansas City on Oct. 15, 1956, five days after the World Series ended. No other players were involved.
But that is New York, that is New York sports writing, and that is the New York Yankees.
Bob Cerv Stuck It to the New York Yankees
In 1958, Cerv stuck it to the Yankees. He had a fantastic season, hitting .305 with 38 home runs and 104 RBIs, but there is more.
Cerv broke his jaw in a home-plate collision with Detroit catcher Red Wilson during the middle of May. Cerv was batting .344 at the time.
He played with a wired jaw for six weeks, but he could only eat liquids, which weakened him and affected his offensive production.
Cerv also played with a broken toe for part of the season.
Bob Cerv Was a Leader
The Yankees were always looking for leadership, but when they got rid of Cerv, they made a terrible mistake.
Kansas City manager Harry Craft, who had a long relationship with the Yankees (even the Kansas City manager had a Yankees' link), appreciated Cerv's intangibles.
"I have nothing but admiration for Cerv. His jaw is broken and so wired to hold it in place that he's been living on liquids. But he doesn't gripe, doesn't complain.
And his determination has been contagious. He's been our leader and every ball club needs a leader."
The Triple Crown
Ted Williams, whom Cerv beat out as the starting left fielder in the all-star game, won the batting title with a .328 average.
It is unlikely that even if Cerv had been healthy all season, he could have out-hit Williams, but he was batting .344 when he broke his jaw.
Yeah, I know it was early in the season.
Mickey Mantle led the league with 42 home runs. There is little doubt in my mind that Cerv could have topped Mantle.
Cerv's .305 average was one point better than Mantle's .304, but it gets better.
The Yankees Traded Jackie Jensen
Jackie Jensen had competed with Mantle for an outfield spot with the Yankees in 1951 and 1952.
The Yankees traded Jensen to the Senators, who later sent him to Boston.
In 1958, Jensen led the league with 122 RBIs, a total Cerv might have been able to beat if he hadn't been hurt.
Bob Cerv and Jackie Jensen Had Great Seasons
Jensen won the MVP award that season. It was really great. The Yankees let Cerv and Jensen go, and, in 1958, each had outstanding seasons.
If there had been any competition, the Yankees wouldn't have even won the pennant, but they got off to a quick start and coasted the second half.
The Yankees never gave Bob Cerv a real chance, and he was not alone.
Only some young players get a real chance with the Yankees, and Cerv and Jensen weren't among them.
References:
By ARTHUR DALEY. (1958, June 12). Sports of The Times :Man Taking a Whirl. New York Times (1857-Current file),44. Retrieved December 28, 2009, from ProQuest Historical Newspapers The New York Times (1851 – 2006). (Document ID: 91391393)
Read more New York Yankees news on BleacherReport.com