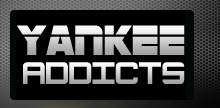 April 2, 2010 · Double G Sports · Jump to comments
Article Source: Bleacher Report - New York Yankees
The MLB regular season starts Sunday night when the New York Yankees travel to Boston and take on the Red Sox.
Fantasy baseball leagues all over the web start with that game as well, including Battle of the Blogs . For those of you that do not know what Battle of the Blogs is, it's a 20-team fantasy baseball league full of sports bloggers battling for bragging rights.
Double G Sports is part of the league.
My opponent for Week One is Five Tool Prospects . Jason Wuerfel, manager of Five Tool Prospects, has what looks to be a pretty good team.
He snagged Albert Pujols with the second overall pick in the league draft. FTP also has some star all-around players like Brian Roberts and Chone Figgins. Ryan Ludwick and Joey Votto should provide his team with a ton of power in addition to Pujols. He also has a pretty solid starting rotation with Wandy Rodriguez, Jake Peavy, and Tim Hudson as the top three.
Read about my team and more of the matchup at Double G Sports .
Read more New York Yankees news on BleacherReport.com