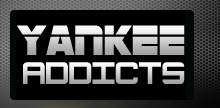 April 26, 2010 · Double G Sports · Jump to comments
Article Source: Bleacher Report - New York Yankees
Battle of the Blogs Fantasy Baseball.
Double G Sports took the overall win against Lady Loves Pinstripes but it was a nail biter. For most of the week, Double G Sports had a commanding lead over the fellow Yankees fan. As the week went on however, Lady Loves Pinstripes closed the gap and caused Double G Sports to get nervous over the weekend.
I eventually secured the 10-9-1 win over Lady Loves Pinstripes. My overall season record after three weeks is now 29-28-3, good for 4th place in the Willie Mays Division. I am currently eight games back in the division, behind LongLive SheaStadium.
While Lady Loves Pinstripeshad pretty big a pretty big week from Jayson Werth and Ty Wigginton, I had a few stand out performers as well.
Find out my top performers for the week plus a preview of this weeks matchup at Double G Sports.
Read more New York Yankees news on BleacherReport.com