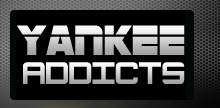 February 15, 2010 · Bronx Baseball Daily · Jump to comments
Article Source: Bleacher Report - New York Yankees
The Baseball Bloggers Alliance, of which Bronx Baseball Daily is a member, is announcing a new radio show.
The hosts of their shows will be members of the alliance and will rotate each week. I am hosting the final episode before the regular season starts on March 30, with Rich Baxter of the Fightin Phillies Blog.
The Press Release
The writers of the Baseball Bloggers Alliance would like to announce that they are taking to the airwaves.
Beginning Tuesday, February 16th at 11 pm Eastern, BBA Baseball Talk can be found at Blog Talk Radio. This one-hour show will discuss the big stories of the day in major league baseball and other baseball-related topics. Callers are welcome to chime in at 347-884-8690.
Your hosts for the first edition will be BBA founder Daniel Shoptaw, who writes at C70 At The Bat, and Ron Kaplan of Ron Kaplan's Baseball Bookshelf.
Hosts will rotate on a weekly basis and the time and date of the show may move depending on the requirements of that week's hosts.
The Baseball Bloggers Alliance is a confederation of 132 blogs working together for collaboration and discussion possibilities.
The Show's Tentative Schedule
Feb. 23: Allan (MLB Secrets) and David (Rockies Review)
March 2: Joe Dexter (Motor City Bengals) and James (Astros County)
March 9: Matthew Seybold (The Sporting Hippeaux) and Joe Fiorello (Disgruntled Mets Fan)
March 16: Michael (Seamheads) and Jonathan (Hot Stove Philly)
March 23: Nino (The Tribe Daily) and Matt Smith (Feeling Dodger Blue)
March 30: Robert (Bronx Baseball Daily) and Rich (Fightin Phillies)
April 6: Ron (Ron Kaplan's Baseball Bookshelf) and Ryan (Prose and Ivy)
April 13: Adam (The Ghost of Midnight Graham) and Steve (The Eddie Kranepool Society)
April 20: Brian (BoSox Injection) and websoulsurfer (Websoulsurfer)
Most Commented Posts
Read more New York Yankees news on BleacherReport.com