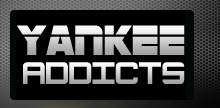 April 30, 2009 · Larry Barnes · Jump to comments
Article Source: Bleacher Report - New York Yankees
Courtesy Yankees 'N More
After losing the series opener to the Detroit Tigers on Monday evening, the New York Yankees were faced with some not-so-pleasant realities.
Specifically, they had lost four consecutive games, their next two games would be on the road, against a very skilled (especially on offense) Tigers team, and New York would be sending their two youngest/least experienced starters to the hill in those contests.
Little more than 48 hours later, the Yankees have consecutive wins and have to be feeling very good about their pitching.
On Tuesday, the 22-year-old Phil Hughes, making his first start in the Major Leagues since the end of last season, threw six shutout innings, allowing only a pair of singles and 2 walks while striking out 6. He threw 58 of his 99 pitches for strikes, and showed a great deal more mound presence than at any point in 2008.
24 hours later, Joba Chamberlain, 23, followed Hughes to the mound and pitched seven strong innings, allowing only one run on 3 hits (all singles) and 3 walks while striking out 6. Chamberlain threw 50 of his 88 pitches for strikes.
Hughes spotted a fastball that was consistently at 93, which is harder than he threw at any point in 2008, a nasty cutter (his new pitch) and a very effective curve. His first three pitches doing so well, we only noticed one changeup all night.
Chamberlain, meanwhile, got into trouble in the bottom of the third inning when the Tigers loaded the bases with only one out. Chamberlain has had trouble in the past getting out of such spots, but he did so on this night while allowing only a single run to score.
Chamberlain's strike out of Miguel Cabrera, who ranks as the leading bases-loaded hitter in the majors, to end the inning was especially impressive.
Now the rotation turns over again to the veterans, with A.J. Burnett, CC Sabathia and Andy Pettitte scheduled to pitch the first three games of a home series against the Los Angeles Angels before Phil Hughes takes his second turn on Sunday.
Things can turn quickly in baseball, and they have for the New York Yankees – thanks to a couple of young guns developed through their minor-league system.