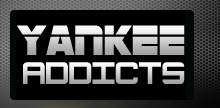 March 3, 2012 · Harold Friend · Jump to comments
Article Source: Bleacher Report - New York Yankees
The 1926 World Series ended when Babe Ruth was thrown out attempting to steal second base. The New York Yankees trailed the St. Louis Cardinals 3-2 in the bottom of the ninth inning.
Two years later, Pete Alexander was against the Yankees in relief in the final game of the World Series, but this time it was different.
With the Yankees trailing 1-0 in the top of the fourth inning of Game 4 at Sportsman Park in St. Louis, Ruth touched Willie Sherdel for a lead-off home run to tie the game.
With the Yankees trailing 2-1 in the seventh inning, Ruth hit another home run off Scherdel to again tie the game.
Ruth's second home run occurred after the Cardinals argued that he had struck out.
Sherdel was pitching carefully to Ruth after the Babe's fourth-inning home run had cleared the roof of the right-field stands.
The Cardinals 5'10" left-hander peered in to get the signal from Earl Smith. Sherdel went into the windup, brought his arms over his head and delivered a fastball that Ruth took for a strike.
Smith fired the ball back to Sherdel, who stepped off the rubber, looked toward the outfield, stepped back onto the rubber, peered in to the get signal and threw a changeup.
"Strike two," home-plate umpire Cy Pfirman shouted.
Ruth was unperturbed just as he would be against Charlie Root of the Chicago Cubs in the 1932 World Series when he called his home run.
Ruth shifted around in the batter's box and, as he looked at the scoreboard, Sherdel made a quick pitch across the heart of the plate. Everyone except Pfirman and Ruth thought that Ruth had struck out.
Pfirman had called time by raising his hands when he saw that Ruth wasn't ready to hit.
Sherdel, Cardinals' captain Frankie Frisch and the rest of the team rushed toward the umpire in protest, but it was to no avail.
Two pitches later, Ruth tied the game. Lou Gehrig followed with a home run, as the Yankees scored four runs to take a 5-2 lead.
Facing Alexander in the eighth inning, Ruth was jeered unmercifully by the Cardinals' fans. Ruth hit the ball onto the roof of the right-field stands for his third home run of the game.
Then, with the Cardinals threatening in the ninth inning, Frisch hit a deep drive into foul territory in left field. Associated Press sports editor Alan J. Gould wrote: "…Ruth ended the game and the Series with a remarkable one-hand running catch of Frisch's foul along the left-field boxes in the ninth inning, dashing on into the dugout as the crowd surged out of the field."
The Yankees hit five home runs in the game and won their second consecutive World Series. The dynasty had started.
Read more New York Yankees news on BleacherReport.com