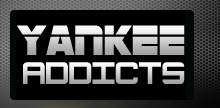 March 3, 2012 · Harold Friend · Jump to comments
Article Source: Bleacher Report - New York Yankees
The St. Louis Cardinals were strong favorites to beat the New York Yankees in the World Series for the second time in three years.
The Yankees were a crippled team after fighting off Connie Mack's Philadelphia Athletics to win the pennant by two and one-half games.
Herb Pennock (17-6, 2.56 ERA) and Wilcy Moore (4-4, 4.18 ERA) missed the entire Series. Babe Ruth and Tony Lazzeri played injured.
The Yankees used only three pitchers the entire Series. Waite Hoyt started and won two games. George Pipgras and Tom Zachary each started and won one game.
After sweeping the Cardinals, the Yankees celebrated in the clubhouse as only the Babe Ruth Yankees could.
As the players slapped each other on the back and offered congratulations, a booming voice started singing "East side, west side, all around the town."
After making what was termed a "remarkable catch" of Frankie Frisch's drive in foul territory near the left-field box seats, a perspiring Ruth ran into the clubhouse holding the ball up high and shouting to his teammates.
"There's the ball that says it's all over." Ruth declared.
The players mobbed him and each other.
Manager Miller Huggins was happier than even Ruth about the great play and beating the Cardinals. Huggins kept repeating, "Did you ever see such a finish to a ball game? What a catch. What a catch."
Unlike today, the media (read that "baseball writers" in 1928) respected the right of the players on the losing team to agonize defeat in silence.
None of the Cardinals, with the exception of manager Bill McKechnie and Game 4 losing pitcher Willie Sherdel, would speak to the press.
"Give them all the glory that is theirs," said McKechnie. "I have no alibis to offer. The breaks went against us. That's all."
What was that? The breaks went against us? The Yankees outscored the Cardinals, 27-10 in a four-game sweep.
Sherdel was impressed with Ruth. Who wasn't?
"Ruth is just a great, terrible hitter. More power to him. I'm glad he ain't in the National League."
Read more New York Yankees news on BleacherReport.com