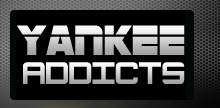 March 5, 2010 · Perry Arnold · Jump to comments
Article Source: Bleacher Report - New York Yankees
In yesterday's Spring Training game against the Philadelphia Phillies, New York Yankees fans got what was, for many, their first look at two young catchers in the Yankee organization.
Austin Romine took over behind the plate for Jorge Posada. Romine looked very steady behind the plate in his set up and how quiet he was receiving pitches.
He also showed good agility, blocking several balls in the dirt even though there were no Phillies runners on the bases.
The only criticism this observer would have of Romine in this very brief look at his defensive skills is he showed a tendency to throw the ball with an odd motion for a catcher.
Romine seemed to make his throws back to the mound and to third base after a strike out with a three-quarter arm angle. This is a bad habit for a young catcher to get into. He needs to be throwing straight overhand so his balls don't sail when the throws are for real to second base.
But overall, Romine looked good behind the plate.
Romine is 21-years-old, having just reached his legal drinking age on Nov. 22 last year.
He played the 2009 season in the Yankees A+ league in Tampa. He appeared in 118 games there and hit .276 with 122 hits and 13 home runs in 442 at bats. His OPS was .763.
Romine is predicted to start the new year with Trenton in Double A.
The other young Yankee catcher that made a brief appearance yesterday is Jesus Montero.
Montero did not play behind the plate. But in his one plate appearance, he slapped a solid single to right field. He was removed for a pinch runner, as Joe Girardi decided to put a little life in this practice game by trying to manufacture a run.
Montero is almost exactly one year younger than Romine. His birthday is also in November and he just turned 20.
Most observers simply rave about Montero's bat. He has considerable power, but he also has discipline at the plate, which is unusual for a kid this young who has an outside chance of being called up to the Yankees this year.
Montero played at both A+ in Tampa and at Double A Trenton last year.
In Tampa, Montero appeared in 48 games, had 180 ABs, collected 64 hits, 15 doubles, eight home runs and 37 RBI. He had a .356 average, .406 OBP, .583 SLG, and .909 OPS.
When he moved up to Trenton, Montero continued to impress. He appeared in 44 games, had 167 ABs with 53 hits, 10 doubles, nine homers, and 33 RBI. His average was .317 with an OBP of .370, SLG of .539, and an OPS of .909.
By comparison, Francisco Cervelli, playing at Trenton when he got the call to come to New York, was hitting less than .200.
Montero is expected to start the year at Triple A Scranton.
Cervelli is probably the best of the young Yankee catchers right now on defense.
Cervelli is Jorge Posada's back up right now. Since Posada will catch no more than 120 games this season, Cervelli will get plenty of action as the regular season gets under way.
But Cervelli is still an unknown quantity on offense. If Cervelli is playing one game out of every four, and he can't carry his weight with he bat, the Yankees may be forced to look to Montero sooner rather than later.
The questions about Montero have centered on whether he can catch in the big leagues considering how big he is.
But Gene Michael told Mike Francesa on YES Wednesday afternoon that Montero has the tools to play catcher at the big league level.
Considering that Jorge Posada will be 39 in August this year and may be playing his last season behind home plate, it is a good thing the Yankees have so many good catchers in the pipeline.
Read more New York Yankees news on BleacherReport.com