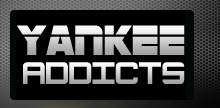 March 25, 2013 · Christopher Connors · Jump to comments
Article Source: Bleacher Report - New York Yankees
It's one thing for your club's power hitters to go down to injury in spring training. It's quite another for your shortstop and captain to find out recently that he will not be starting the season with the team (per Wallace Matthews of ESPNNewYork.com). In fact, he may never be the same player ever again.
It's been one calamitous development after another this off season for the New York Yankees, with unbelievable negativity and doom surrounding the start of the season, now just one week away. A lot of the usual Yankee-hater suspects in the media (like Jeff Passan of Yahoo! Sports) are panning the Yankees' moves and writing early obituaries for 2013.
There's absolutely no doubt that this year, more than any other in a long time, is being viewed as the season where the mighty run of the Yankees, over the last 19 seasons, will finally come to an ugly end. Many believe this team will not only miss the playoffs—they'll start a precipitous decline from the top of the American League.
Few people are questioning whether the Yankees will have a solid pitching rotation in 2013. That's not to suggest they'll be elite, but there's every reason to believe that a Bombers' pitching staff, which finished fifth in the AL in ERA last season, will be primed for another very successful season.
Hiroki Kuroda, CC Sabathia, Phil Hughes, David Phelps, Ivan Nova and now hopefully a full season's worth of Andy Pettitte return in an attempt to keep the opposition to a nice low number on the scoreboard. And of course, the great Mariano Rivera is back closing games for the Yankees.
The matter is the lineup. How do the Yankees make up all the home runs? How can they possibly win with a bunch of ragtag replacement parts comprising roughly one-third of their batting order?
Very legitimate questions, and ones we'll soon know the answers to in what should become a season of immense interest for both Yankees fans and the haters who have long awaited their demise.
The picture for the Yankees lineup has become a bit clearer, as Monday the Bombers are closing in on a deal with former All-Star Vernon Wells (per Wallace Matthews of ESPNNewYork.com). Wells has faded far from the star he once was in Toronto, but the reality is, he may be better than some of the other options the Yankees were considering in the outfield.
Here's a closer look into the best options for the Yankees at each position as we're almost ready to start the real big league games.