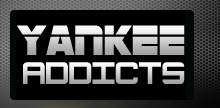 April 21, 2009 · Gary Marchese · Jump to comments
Article Source: Bleacher Report - New York Yankees
The lineup for today's game has been posted and here it is:
Jeter(ss)
Damon(lf)
Teixeira(1b)
Posada(c)
Cano(2b)
Swisher(rf)
Matsui(dh)
Ransom(3b)
Gardner(cf)
Some notes courtesy of Peter Abraham:
The Yankees are batting .125 with runners in scoring position at home so far this year.
Brian Bruney has retired 20 straight batters; his last seven outings are 6.2 perfect innings striking out twelve.
Big Tex the last three games is three for nine with two home runs, four RBI, and three walks. I say that cortisone shot has seemed to help him. He needs four more hits for 1,000 in his career.
The Yankees have homered in seven straight games.
Today is Johnny Damon's 1,000th career game and tomorrow is Derek Jeter's.
The Athletics are 2-5 with a .202 batting average against lefties this year.