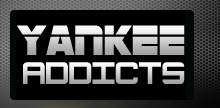 March 22, 2010 · Joseph DelGrippo · Jump to comments
Article Source: Bleacher Report - New York Yankees
After Alfredo Aceves gave up five runs in four-plus innings yesterday, the Yankees hierarchy was secretly giddy. Phil Hughes, the darling prospect of the team since being drafted in 2004, is now back in the lead!
Headlines in Sunday's papers shouted, "Aceves' Bad Outing Could Cost Him in Yankees Contest ," and "Aceves Puts Himself In Hole With Poor Start ."
Unless Aceves had a completely dominant spring training, he never had a chance, and the Yankees couldn't be happier. While Hughes and Joba Chamberlain alternated early on between starting and relieving, facing mostly minor leaguers, Aceves and Sergio Mitre were usually starting, facing the oppositions' starters two or even three times.
In his next outing against the Philadelphia Phillies, Hughes is in relief of starter AJ Burnett. It was supposed to be on his normal rest, and if Hughes goes his four or five innings, he will likely face minor leaguers for a turn through the lineup.
Aceves faced the Astros starters the entire time, and was on a full week break from live pitching.
Advantage Hughes.
GM Brian Cashman and others want Phil Hughes to be fifth starter. Despite what they said about all five guys (Hughes, Joba, Aceves, Mitre, Chad Gaudin) having a shot to win the job, unless Hughes imploded, he (or Joba) was going to get the job. It's funny, but a rotation of all five of the fifth stater candidates is probably better than Pittsburgh's current rotation.
Even though Joba is not on an innings limit for this season, Cashman made the decision not to follow his 2008 plan and have two young pitchers in the rotation at the same time. But a more mature 2010 Hughes and Joba are better than a younger Hughes and Ian Kennedy in 2008.
However, Cashman needs to keep up with Boston and does not want to miss out on the playoffs again after a great 2009 season.
That is why Cashman traded for Javier Vazquez, and left only one spot for Hughes or Joba. Aceves is well regarded as a rubber armed swingman, and Mitre and Gaudin are really trade bait.
But while the Vazquez deal is good for the Yankees this season, unless another young pitcher is given the opportunity to make the rotation next season, the Yankees will again have to fork over big dollars for a free agent pitcher.
That free agent could be Vazquez (likely), Josh Beckett (if he does not re-sign with Boston, but less likely) or even Cliff Lee (highly likely). But while Lee would be the favorite*, based upon his performance this year he would require at least a five-year deal at $15-20 million a year beginning with his age 32 season.
*Lee would be the favorite because he would want that type of contract and the Yankees are one of the few teams with the resources. If Boston re-signs Beckett before next year, they are likely out of the Lee market since they will have multi-year deals with Beckett, Jon Lester, Dice-K, and John Lackey already on the books.
With Beckett seeking Lackey type money of about $17 million a season, the Red Sox would have $50 million between the current four. I do not believe they would be able to afford Lee.
Also, Lee is a great friend with current Yankees CC Sabathia as they played together in Cleveland and Burnett, who like Lee is from Arkansas and shares the same agent, Darek Braunecker .
Cashman has often said his goal was to draft and develop starting pitchers because of the high price tag for starters in free agency . Despite all that hyperbole, Cashman is still building the rotation from outside the organization.
The Vazquez trade goes against what Cashman has always talked about. So does signing Sabathia and Burnett before last season and possibly going after Lee next year.
And that is why the Yankees want Hughes to get the 2010 fifth starter job; to keep the Yankees moving down the development path.
And beginning in 2011, they will need more homegrown kids to produce.
The Yankees are anticipating the end of Andy Pettitte, who might be in his final season on the hill. Pettitte is now in his 16th season as a major leaguer, plus another full season on his arm via the playoffs.
Currently, he is on a year-to-year basis. At the age of 38 this season, Pettitte is better than 50-50 to hang 'em up after this year, especially if the 2010 season is injury plagued or less than Pettitte standards.
If Pettitte is no longer around next season, and with Vazquez being a free agent after 2010, that would be two new spots to fill in the 2011 rotation. If Vazquez has a good year, he will likely have more suitors in the offseason than the Yankees.
Also, if CC keeps throwing the ball well, he has the ability to opt out of his Yankee contract after the 2011 season, and could elect to become a free agent. That would be another starting role for the Yankees to fill.
That is why it is imperative for Hughes to get the fifth spot, to gain full season stamina in 2010 to be better next season. He is expected to be on an innings limit of about 160-170, prepping him for a no-holds barred 2011.
With Hughes firmly entrenched as the fifth starter, the Yankees are expected to go with Aceves as the swingman and Joba as back end bullpen guy. While that Joba debate has been discussed ad nauseum, since the Yankees probably would need starters next season, and since he still has options, it would be best long term to have Joba get regular work down in Triple-A as a starting pitcher.
In fact, since the Yankees do not need a fifth starter until the end of April, it would not surprise me if both Hughes and Joba start the year in Scranton. The Yankees do not play on a Monday at all in April, and have five days off that first month. I find it unusual that MLB gives extra off days early in the season, when these off days would be more welcome in August, during the dog days of summer.
With both young guys in Triple-A to start the season, the Yankees could then keep Mitre around as another two to three inning middle guy if he isn't traded by then. Despite what the Yankees say about how much they like Gaudin, he stinks . He never has had a decent season in the majors and with a sub-.500 career record (34-35), 4.50 ERA, and a WHIP over 1.500, I am surprised the Yankees re-signed him for 2010.
Any of the proposed Triple-A starters, such as Zach McAllister, Ivan Nova, Romulo Sanchez, Dustin Moseley, or Jason Hirsch could probably give the Yankees similar production as Gaudin.
With Joba and Hughes getting regular starts and innings, the Yankees would have an extra spot in the bullpen to maybe give to Boone Logan, who appears to be a Joe Girardi favorite. Although I am not in the Yankees need a second lefty in camp , Logan has pitched well enough this spring to garner a spot. Mark Melancon deserves a spot, too.
Starting in 2010, the Yankees are going to probably need two (if not three) new starting pitchers over the next few seasons.
To avoid going the free-agent route next offseason, the Yankees need Hughes to have that fifth spot this season. First reason is to validate the draft and develop the idea set down by Cashman, especially with the golden child Hughes. Second, to save the Yankees possibly about $20-30 million a year by having to sign up to two free agents for 2011.
Keeping Hughes and Joba in starting roles will be better for the Yankees in the long run, with the program of developing a mostly homegrown rotation, but especially financially so they can use these saved resources on other areas of need.
Read more New York Yankees news on BleacherReport.com