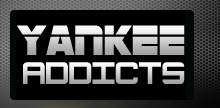 March 19, 2010 · Bronx Baseball Daily · Jump to comments
Article Source: Bleacher Report - New York Yankees
So far this spring the Yankees have not had to deal with major injuries to their pitching staff and while that is fantastic, it's bad for Chad Gaudin and Sergio Mitre, if they want to stay in the Bronx.
I've written before that it is likely that one of them gets traded, but today, Joel Sherman of the NY Post wrote that, "the Yankees are almost certain to trade either," one of them before the start of the season.
The reason Sherman was discussing the subject is because he was talking about the Arizona Diamondbacks and their thin rotation and concerns with Brandon Webb's recovery. So the Diamondbacks are in the market for pitching and the Yankees have at least two pitchers that would be available via trade.
Will the teams be able to work out a deal?
It depends on a couple of things. As Sherman points out, there are other teams with pitchers available. He specifically notes the Blue Jays, so just because the Diamondbacks need a pitcher doesn't mean they are going to knock on the Yankees door. They actually have to like one of them.
Gaudin has a better track record, but he is already pitching through fatigue this spring and that could make Arizona leery. Mitre pitched terribly last season, but made an amazing comeback from Tommy John surgery after only 11 months. Being further away from the surgery could make him more attractive.
The Yankees and Diamondbacks also are fresh off of working together this past December during the three team swap that brought Curtis Granderson to the Bronx. That doesn't mean a whole lot really, but a good working relationship can go a long way in working out trades as teams tend to deal with people they trust more often.
There could be potential for a deal here, but the important thing to remember is that there is no actual rumor here. It is just a reporter speculating. At least he seems to be doing it intelligently.
Related Stories
Read more New York Yankees news on BleacherReport.com