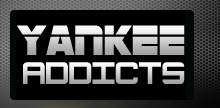 November 3, 2010 · Joseph DelGrippo · Jump to comments
Article Source: Bleacher Report - New York Yankees
I have been here for three days in Arizona to see the MLB Fall League, and I have yet to see a cloud. It is simply tremendous weather here, usually about 85 degrees during the day with bright sunshine. At night the temperatures dip to the mid-to-high 60s, and the air is slightly crisp.
It is perfect baseball weather.
And while the weather is great, the best part of the Grand Canyon State this time of year is the baseball games played by many of the games top prospects.
I am here to follow up on my original pieces of various New York Yankee farmhands and to see some top players from other organizations, namely some guy named Bryce Harper.
Today is my first day to see Harper play and he just hit four balls out in BP, and the wind is blowing in. Even the players stood around to watch him hit.
However, my first game this week was Monday at Surprise Stadium, spring training home to the Texas Rangers and Kansas City Royals. Due to a serious car rental delay, I arrived right before "Play!" was called by the home plate umpire. Pulling into the complex, I saw a group of Rangers prospects on a side field going through team defensive drills.
Third hitter in the lineup for the visiting Phoenix Desert Dogs was left fielder Brandon Laird. Yankee catching prospect Austin Romine was hitting sixth.
Laird also hit third on Tuesday in Phoenix, 20-year-old Jose Pirela was playing second and LHP Manuel Banuelos was on the mound. Right handed pitcher Craig Heyer also pitched. Romine had Tuesday off.
This report is on Brandon Laird, new Yankee multi-positional prospect. A separate report will come on Romine, and a group report will be made on the pitchers.
Having seen about 30 or so games at Double A Trenton, I have become a fan of Laird's.
He can turn on the inside fastball, stays inside the ball well with his hands and hit with some authority to the opposite field. Laird also produced his share of timely hits, including a walk-off grand slam in Trenton.
His defense was not Graig Nettles-like at third base (or even Scott Brosius good), but he was adequate, making his share of good plays and his share of errors, too. But Laird is a hitter who has always hit well in his baseball career.
Many people have said this is Laird's breakout season, but he actually hit more home runs (23 to 17) and slugged higher (.498 to .491) than Jesus Montero did in Low A Charleston in 2008. And Laird did that in 63 less (569 to 503) plate appearances than Montero.
Laird is a third baseman by trade with some playing time at first base. One need the Yankees have for the future is a right handed bat off the bench with power, who can play multiple positions.
Marcus Thames is not that guy, so enter Laird stage left.
The Yankees are trying to make Laird that versatile corner man, using him in left field in the AFL.
He looked good out there during instructs, not Carl Yastrzemski or Brett Gardner good, but he held his own. Not a "toolsy" guy or "five-tool" prospect, Laird is just a blue-blooded baseball player.
Laird continued his good 2010 season here in the AFL, knocking six doubles, three home runs and driving in 11 runners.
However, Laird appears to now have an issue with the outside fastball. In Monday's game, Laird took four hittable pitches on the outer third (twice on first pitches). He almost swung several times and actually cocked the gun, but simply could not pull the trigger.
When he did swing at the outside fastball, it was only with two-strike counts, with most swings weak flails at the offerings. No authority to the right side, and no real attempts to go the other way.
Laird appears to have become a pull hitter, trying to hit for even more power than he showed this season. Have the 25 home runs he hit in 2010 changed Laird's hitting approach?
Not completely.
He still showed the ability to hit line drives up the middle, getting his pitch on the inner third, keeping his hands in and hitting two rockets (one each day) through the pitchers box. The one on Monday almost maimed the pitcher, but the ball deflected off his glove (possibly saving his life) to the second baseman who threw Laird out at first.
As I said in the piece earlier this season, Laird looks for a certain pitch and location and is not afraid of hitting from behind in the count. He still shows ability to lay of the low breaking pitch and can hit the curve when it is thrown for strikes. But he does need to start going more the other way.
As for defense, Laird performed admirably in left field, but often took initial steps back before adjusting to the ball. These were balls hit off the end of the barrel, sounding good off the bat but were simply routine fly balls.
Continuously going back on the ball is common for a new outfielder. Newbies are extremely conscious of fly ball going over their heads, and to compensate for the lack of confidence (and a fear factor) by taking first steps back on almost all fly balls. A ball landing on the warning track looks much worse than a ball landing in front of you, and costs your team more bases and runs.
Laird did make a nice place on a fly ball towards the left field line, taking a direct route to the ball and even turning on the jets the last couple strides to make a catch off the bat of Davis Stoneburner*, turning a possible two-run double into a routine sacrifice fly.
*Davis is the older brother of Yankee pitching prospect Graham Stoneburner.
Laird also made a decent throw behind a runner at second base who aborted an initial attempt to go from first to third on a single to left center. Laird was quick to the ball, thwarting the advancement, and then made an accurate (but not overly strong) throw to second base, just missing the scrambling runner getting back to the bag.
Laird is still a prospect under Yankee standards, and unless he is out here as trade bait, his ability to hit with power and play adequate defense at a few positions will bode well for him and the parent club. His defense will continue to improve with more drills and reps.
But in order for Laird to stick long term in the majors as a utility corner guy, he needs to be able to hit to all fields, especially in Yankee Stadium. If Laird continues his current trend of becoming pull happy and not going after the outside fastball, major league pitchers will eat him up on the outside corner.
Read more New York Yankees news on BleacherReport.com