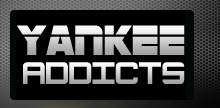 November 4, 2010 · Joseph DelGrippo · Jump to comments
Article Source: Bleacher Report - New York Yankees
As I mentioned in my Brandon Laird piece from yesterday, I saw the Trenton Thunder about 30 times this season. The first reason is that the Double A level is now the first real step to prospect status, and this level gives a great indication for how a player will project at higher levels.
Second, Trenton is only 45 minutes away and is readily accessible. Third, I like talking baseball with long-time Thunder manager Tony Franklin.
Finally, the Yankees ran about eight solid arms through that team, names like David Phelps, Hector Noesi, D.J. Mitchell, Adam Warren, Andrew Brackman, Dellin Betances, Lance Pendleton and Manuel Banuelos. It was great watching all that pitching talent.
And the main man trusted to work with those pitchers was catcher Austin Romine, widely considered the top catcher in a Yankees system full of catching prospects. I saw Romine catch about two dozen times this season, but was not as impressed as most other amateur evaluators.
You can read that earlier piece here.
I saw Romine having difficult times receiving the ball, with the ball often going off his glove. Often, this occurred when runners were not on base, so no passed ball was charged.
I remember just before the first Andy Pettitte game in the Eastern League playoffs, I told a scout who was seeing Romine for the first time that he will have at least two or three pitches go off his glove that game. My reasoning was that his first time catching Pettitte would provide some difficulties.
The first pitch of the game went off Romine's glove all the way to the backstop. Said scout looked back at me and smiled.
Romine's hitting was not all that great, either. Romine did not follow up his 2009 Florida State League MVP with an equally impressive campaign at Double A. He looked weak against hard throwers and would only put the ball in play with authority off good fastballs if they were on the outer third, allowing him to go with the ball.
Nothing wrong with that, but Romine was overmatched against good fastballs inside, and then would flail against good breaking pitches off the same pitchers.
So I was pleasantly surprised when I saw Romine hit for the first time here in Arizona.
His entire stance is different.
When I saw him in Trenton, he was slightly open with his hands just off the back shoulder. Here, his stance is even and hands are held higher. He still has that high leg kick, similar to the one Alex Rodriguez employs.
I confirmed this with Romine himself during a 15 minute conversation with him, as well as with the Yankees Director of Player Development, Pat Roessler, who is located in the stands during the AFL games.
And that change in approach is good to see. It also is a great reason why statistics in the AFL are virtually meaningless. Guys here are constantly working on new pitches, stances and approaches to the game.
When asked if anybody in the Yankees system asked him to make a switch, Romine says he alone is responsible for the change in his stance. Romine said, "What I was doing in Trenton wasn't working for me. Out here, I am working to keep my hands higher to get a more downward path to the ball and get more backspin on fly balls." He showed me with his hands what he trying to accomplish.
Translation: Romine wants to hit more home runs and become a bigger run producer.
Sometimes when a hitter uses an open stance (as Romine did this season), they might close themselves off by striding too far to the plate instead of directly to the pitcher. This limits the ability to hit the inside fastball and can limit power by restricting the hips ability to turn.
And still with the high leg kick, a tough hitting trait to use with consistency? "I am trying to tighten that up."
So far this AFL, Romine has not hit for more power. His production is currently .286 BA/.314 OBP/.347 SLG with three doubles and seven RBI. He still waves at a good breaking pitch, but did line a single to left on a hanging slider.
The lack of power here is not because of his being tired after catching his first full season. "I thought I was going to be tired, but I am really feeling good. The days off between games help out here after a long season. I think I caught something like 105 games or so in Trenton. I was actually more tired last year at the end in Tampa." The days off are explained by the fact that Romine has been basically alternating catching games with Florida Marlins prospect Kyle Skipworth.
After Jesus Montero was promoted to Trenton midway through the 2009 season, Romine became the full time catcher in the second half in Tampa.
Romine's receiving was better in his games behind the dish here which I have seen, but he still had a couple of passed balls prior to my arrival in the warm weather. And in the first game I saw, he allowed three stolen bases, two with bounced throws off line.
The third stolen base did not warrant an attempt as the ball kicked off his glove.
As I saw earlier this season, Romine's best asset behind the plate still remains his ability to call a game. Many Yankee pitchers raved about his calling skills, as do several of the arms on the Phoenix staff.
Romine has a tendency to keep going to the pitcher's best offering that day and not just his best pitch overall. Recognizing what is working for a pitcher during a specific game is a great trait for a catcher to have.
Despite the thoughts by a few in the business on his catching abilities, Romine says he does not listen to the negativity. "I don't worry about what people outside the Yankee organization say. I know the Yankees have confidence in me and my abilities. I am constantly working hard to improve my game."
And Romine really wants to be the next Yankee catcher. "I want nothing more than to be the next New York Yankees catcher. The Yankees are the only organization I know and they have been very good to me. The Yankees have a strong history of catching talent and I want to be part of that tradition."
As with all catchers, Romine gets nicked up frequently. He had a sore wrist the last month or so in the Eastern League season, and was sat down for a week in the middle of the summer with a dead arm.
"I was throwing all the time: infield practice, bullpen sessions, other drills and my arm needed time to rest."
Any long term effects of that tired arm? "No, not at all. My arm feels good now. I just needed a few days off at that time."
Austin Romine really wants to be the Yankee catcher. He knows the Yankees have a ton of catching talent in their system, and from what he has seen over his last three minor league seasons, he feels the Yankees have the best overall pitching talent in baseball.
He believes the killer B's (Andrew Brackman, Dellin Betances and especially Manuel Banuelos) have the right stuff and makeup to be top flight major league pitchers.
And he wants to be their catcher.
But is Romine capable of improving his game to the point where he can play 135-140 games behind the plate? Can he play good defense (including throwing out runners and calling good games) and hit well enough to keep a job in the major leagues?
He still needs to improve on his footwork behind the plate, which is usually the cause of errant throws to second base. He also needs to limit the passed balls and other bouts of lapses in concentration.
With his hitting, one thing with the leg kick is that while it helps keep the hitter's weight back, Romine needs to get the front foot down in time to allow the hips and hands to work. And no matter where he starts his hands in his new stance, he needs to get them into the right area at the right time to attack the ball.
He still has a lot to work on, and where he starts the 2011 season depends on what the parent club does with Jesus Montero, who is ahead of Romine primarily because of his bat. With the new batting stance and swing it might not be a bad idea to start Romine back in Trenton for 2011.
Can Romine improve his overall game to continue up the Yankees' catching ranks before other young catchers like J.R. Murphy and Gary Sanchez make their move?
Right now I don't think it can happen, and believe there is a good chance Romine could be traded as part of a numbers game.
But Romine likely doesn't worry about what I think.
Read more New York Yankees news on BleacherReport.com