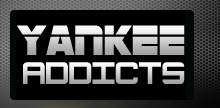 February 26, 2010 · Bronx Baseball Daily · Jump to comments
Article Source: Bleacher Report - New York Yankees
One player who has contributed a lot to the Yankees success over the years, but has been overlooked, is lefty reliever Arthur Rhodes. Don't believe me? In 82 career innings against the Yankees, Rhodes has a 7.46 ERA, a 1.76 WHIP, and a .294 BAA.
Now he's helping the Yankees in a more indirect way—he's helping AJ Burnett work on his changeup.
Via Marc Carig of the Newark Star-Ledger :
Burnett said he's never spent more time trying to refine his changeup, even enlisting the help of an old friend and neighbor, Reds reliever Arthur Rhodes.

"I think it's a big key," said Burnett, who wants the pitch to be reliable enough to use when his curveball is off. "Whether I throw it or not, I don't know. But I've been working it."

In 2005, his last with the Marlins , Burnett threw a career-high 9.9 percent changeups according to FanGraphs . But since that season, that number has slipped. And by 2009, Burnett's first with the Yankees, Burnett threw changeups on only 3.1 percent of his pitches.

It was the lowest percentage of changeups thrown by Burnett in any single season since 2002 (the first season that such data is available.)

Burnett, whose fastball curve combination is one of the best in baseball, often won't throw a changeup for fear of getting beat with the pitch. Yet, after his offseason, Burnett believes he can throw his changeup well enough for it to be an effective alternative to his breaking ball.

 
Thoughts : Carig hit the nail on the head. Burnett threw his changeup just 3.1 percent of the time last season, which is about half of his career total of throwing it 5.7 percent of the time. In his best statistical season he threw it 9.9 percent of the time, more than three times as much as last year.
Burnett has talked about getting more groundballs this season, and his changeup would go a long way to help him achieving that. It's never been a very effective pitch for him throughout his career—his career wCH value is -4.3 according to FanGraphs—but it does seem like the more he throws it the more effective his fastball is.
More than any other pitch, the changeup is a feel pitch, meaning the more you throw it the better it is. So if he's putting dedication into it he should expect some decent results from it. Having someone like Rhodes, who despite his numbers against the Yankees probably knows a thing or two about changeups, helping him with it could be even better.
His use of the changeup is something we'll keep an eye on in 2010. Thoughts? Questions?
Related Stories
Read more New York Yankees news on BleacherReport.com