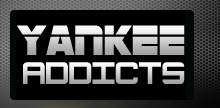 April 1, 2010 · Perry Arnold · Jump to comments
Article Source: Bleacher Report - New York Yankees
If you were a pitcher and you looked at a batting order that featured Derek Jeter leading off, Alex Rodriguez hitting sixth and Robinson Cano hitting ninth, you would probably scratch your brow a little.
What a minute, did I say A-Rod hitting sixth and not fourth? And Cano hitting ninth and not fifth?
Yeah, that's what I said, because I'm not talking about the 2010 edition of the Bombers.
I'm talking about an all time Yankee batting order that would look something like this.
SS Derek Jeter
CF Joe Dimaggio
RF Babe Ruth
DH Lou Gehrig
LF Mickey Mantle
3B Alex Rodriguez
1B Don Mattingly
C Yogi Berra
2B Robinson Cano
Anybody want to face that lineup?
The New York Yankees are the most storied franchise in sports history and have more great hitters than any team has ever had. These would be my pick for the greatest combination of hitters you could put on the field from among Yankee greats.
And if you look closely, you will notice that only two of the players, Ruth and A-Rod, were acquired by the Yankees and did not play their entire careers for the team.
I would challenge any other fan to come up with another franchise that could put a lineup together that looks like this.
Read more New York Yankees news on BleacherReport.com