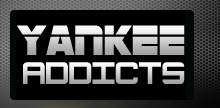 February 17, 2010 · Billy Fellin · Jump to comments
Article Source: Bleacher Report - New York Yankees
Greetings Bleacher Reporters!
I'm Billy and I have been a contributor on this site for a few years now. Anyone who has read any of my articles knows that I am incredibly passionate about my teams, especially the New York Yankees.
I am, like many on this site are or were at some time, a college student. I am a Communications Studies major at Christopher Newport University in Newport News, VA.
The great thing about my major is that I get to have a "capstone" senior research project and the topic is pretty much whatever I want it to be.
Sports was a natural choice of topic for me, and I decided to look at the Yankees-Red Sox rivalry.
So, Bleacher Reporters, even though this is not a "traditional" article, I have been impressed in times past by the members of this community helping other members out. I would like to ask for your help in providing me with data for my research.
Read more New York Yankees news on BleacherReport.com