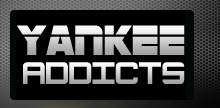 News published by
February 17, 2010
Greetings Bleacher Reporters! I'm Billy and I have been a contributor on this site for a few years now. Anyone who has read any of my articles knows that I am ...
October 27, 2009
  The New York Yankees are back in the World Series again. With American League pennant No. 40 under their belt, as well as the groanings of Red Sox and Angels ...
September 4, 2009
I suppose every athlete, fan and writer at some point in time has that moment where they really look back and think about why they care about sports so ...
June 9, 2009
Back in May, the Yankees were embarassed by the Red Sox, who swept both of the opening series. However, since then the Yankees have caught fire and actually leapfrogged said ...