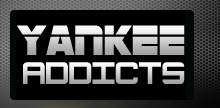 April 7, 2010 · Bronx Baseball Daily · Jump to comments
Article Source: Bleacher Report - New York Yankees
Earlier today I pointed out one of my favorite blogs, Mike Ashmore's Thunder Thoughts. There is another blog you should be reading called Confessions of a She-Fan written by Jane Heller.
She isn't the tireless reporter in the vein of Ashmore, but she does have something in common with him: great writing. Her insights and humor are second to none. Aside from her great writing, you should be reading her blog these days because she's running a contest in which the winner will receive cookies.
Literally.
And who doesn't like getting some cookies?
Check out this link for more information.
Most Commented Posts
Read more New York Yankees news on BleacherReport.com