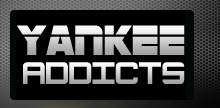 June 13, 2009 · Harold Friend · Jump to comments
Article Source: Bleacher Report - New York Yankees
Herb Pennock, Lefty Gomez, and Whitey Ford are the only left-handed Yankees' pitchers in the Hall of Fame.
Now that Andy Pettitte is near the end of his pitching days, there is some speculation with respect to whether Pettitte should be a Hall of Famer.
Comparing Andy to Herb Pennock helps creates perspective.
Some of Andy Pettitte's Statistics
Andy was with the Yankees from 1995-2003. He signed with the Astros in 2004 to be with his friend Roger Clemens, and returned to the Yankees in 2007.
Before play on June 12, 2009, Pettitte had 221 wins, 129 losses, a 3.90 ERA, and a 116 ERA+. He has averaged 17 wins and 10 losses a season, with a 1.364 WHIP.
Herb Pennock
Andy Pettitte's career compares favorably with that of Herb Pennock, who was 240-162 with a 3.60 ERA, a 106 ERA+, and a 1.348 WHIP. Pennock averaged 16 wins and 11 losses over a 162-game season.
He joined the Philadelphia A's in 1913, who sent him to Boston in June, 1915. He had two stints in the minors before sticking for good with Boston.
The Yankees Acquire Herb Pennock
The Yankees acquired Herb Pennock from their friends in Boston in January, 1923, in what was immediately called one of the most one-sided trades in baseball history.
Right-handed pitcher George Murray (who?), third baseman-outfielder Norman McMillan (who?), and outfielder Camp Skinner (who?) were sent to Boston.
When one reads that the Yankees acquiring Herb Pennock for three youngsters was one sided, it is likely that one believes the trade greatly favored the Yankees, but that was not the case.
The 29 year-old Pennock was coming offseasons of 12-14 and 10-17. He was steady, "but never was one of the top-notchers."
The Worst Trade the Yankees Ever Made?
After they made the trade, the Yankees admitted that it was a little lopsided.
They justified it by pointing out that Pennock would be of immediate value, but an unnamed club official called it the worst trade the team had ever made. He elaborated.
"The worst trade the Yanks ever made. That is, if you take it by and large, in its broader aspects. But we are figuring on the coming season.
"The Yanks need a left-hander badly if they are to win another pennant. So we are sacrificing future prospects for the immediate season."
Pennock's Solid Seasons
Herb Pennock went 19-6 in 1923, with a 3.13 ERA and a 126 ERA+. In the World Series against New York, he won two games to help New York win its first World Championship.
The next season, Pennock was 21-9 with a 2.83 ERA and a 146 ERA+. The 1926 season was his only other 20-win season.
Comparing Andy Pettitte With Herb Pennock
In his 11 Yankees' seasons, Herb Pennock was 162-91 (.643) with a 3.54 ERA and a 113 ERA+.
In his 12 Yankees' seasons, Andy Pettitte is 184-103 (.641), with a 4.01 ERA and a 114 ERA+.
Pennock appeared in five World Series, four with the Yankees and one with the A's. He was 5-0 with a 1.95 ERA and an 0.849 WHIP.
Andy has appeared in seven World Series, six with the Yankees and one with the Astros. He is 3-4 with a 3.82 ERA and a 1.394 WHIP.
If one accepts the position that Pettitte was as good as Pennock and the latter is a Hall of Famer, therefore Pettitte should be a Hall of Famer, the matter is settled, but does Pennock belong in the Hall of Fame?
Herb Pennock had a long career, but was never considered in same category as Left Grove, Waite Hoyt, Red Ruffing, or Carl Hubbell.
Pennock had four full seasons in which he lost more games than he won. He gave up an extraordinary number of hits, but his great control minimized the damage.
From 1929-1933, his ERA was never below 4.28, and it was as high as 5.54 in 1933, which was his last season with the Yankees before returned to Boston, where he finished his career.
Andy Pettitte was a 20-game winner twice. Like Pennock, he gave up more hits than innings pitched, but he has never lost more games than he won in a season.
Pettitte has had ERAs under 4.00 in only six of his 15 seasons, with a career best of 2.39 in 2005 with Houston. In 1999, his ERA was 4.70.
Tommy John and Jim Kaat
When one compares Pettitte to Tommy John or Jim Kaat, both of whom spent time with Yankees, his statistics compare favorably with both, although each had much longer careers than Andy.
But Andy was not better than either, and neither Kaat nor John will get into the Hall of Fame. Herb Pennock had good timing.
References
YANKS GET PENNOCK FROM THE RED SOX :Give Murray, McMillan and Skinner for Veteran Boston Left-Handed Pitcher. COLLINS DEAL NOW LIKELY Ward, Meusel and Hoyt Will Prob- ably Be Traded for Star Second Baceman, Falk and Robertson…(1923, January 31). New York Times (1857-Current file),p. 16. Retrieved June 12, 2009, from ProQuest Historical Newspapers The 3643New York Times (1851 – 2005) database. (Document ID: 105844312).