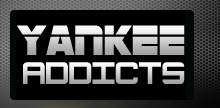 April 23, 2009 · Andrew Godfrey · Jump to comments
Article Source: Bleacher Report - New York Yankees
The signing of Andy Pettitte last winter has turned out to be more important than ever now that the 2009 season has started. Pettitte has the best ERA among Yankee starters with a 2.53 mark and is tied for most wins by a Yankee starter with A.J. Burnett, with both pitchers sporting 2-0 records.
Burnett has a 3.20 ERA while C.C. Sabathia is 1-1 with a 4.81 ERA, Joba Chamberlain with an 0-0 record and a 5.06 ERA. Chien-Ming Wang is 0-3 with a 34.50 ERA. Even though Pettitte took a pay cut from $16 million in 2008 to $5.5 million in 2009 he could make more in innings pitched and games played incentives.
It is ironic that Pettitte who is making far less than Sabathia and Burnett has outpitched them so far this season. For instance Pettitte has walked only two batters in 21 innings while Sabathia has walked 14 in 24 innings. Burnett has walked nine batters in 19 innings.
Pettitte is only making a half million more than Wang in basic salary. Unless Wang starts pitching like he did in his 19 win seasons he may not be around after this season.
The consistency of Pettitte over the years isn't mentioned as much as the record of Greg Maddux who won at least 15 games a year for 17 years but he has won at least 13 games in each year he has started at least 30 games from 1996 to 2008.
The 2004 season was the only season he didn't reach the 13 win mark and started only 15 games that season and compiled a 6-4 record with the Houston Astros. Pettitte has an amazing 217-127 lifetime record.
His .630 winning percentage is 10th among active pitchers and 49th all time and is better than Hall of Famers Eddie Plank, Chief Bender, Addie Joss, Carl Hubbell, Bob Feller and Cy Young.
Pettitte will be 37 on June 15 and if he can win an additonal 13 games this season he would finish the season with 230 wins. He may not reach the 300 win plateau but he could make a case for the Hall of Fame. With Randy Johnson more than likely being the last of the 300 game winners his chances will increase by the time he is eligible to be voted on.