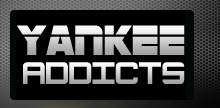 News published by
July 30, 2010
Billy Loes, former Brooklyn Dodgers hurler who appeared in three World Series (1952, 1953, and 1955), has died at the age of 80. Loes, who compiled a 80-63 record in 11 ...
July 19, 2010
Alex Rodriguez hit his 598th home run yesterday in a 9-5 win over the Tampa Bay Rays in Yankee Stadium. Alex Rodriguez needs only two more home runs to become the ...
July 12, 2010
It is a misnomer to say that the season is half over at the All-Star break, with the Angels having played 91 games and having only 71 games left when ...
June 10, 2010
Robinson Cano doesn't get the publicity of Yankee teammates Alex Rodriguez, Derek Jeter, and Mark Teixeira, but he is having the best season of any Yankee position player in 2010. He ...
May 30, 2010
Indians starter David Huff was hit in the head by a line drive off the bat of Alex Rodriguez but the Indians overcame a 9-3 deficit to record a 13-11 ...
May 25, 2010
Once again, the All Star voting is proving to be a popularity contest with almost no correlation to how well a player is performing on the field. A case in point ...
September 26, 2009
Jason Varitek let the Yankees run wild on the base paths last night with seven successful steals with Varitek unable to throw out a baserunner. Last night was not a good ...
September 4, 2009
Shelley Duncan leads the International League in home runs with 29 and runs batted in with 94. With most of the minor league teams ending their seasons soon or in the ...
August 7, 2009
John Smoltz in the dugout after being removed from the game with the Yankees last night as the Yankees defeated the Red Sox 13-6. John Smoltz made his worst start of ...
July 12, 2009
Many home run hitters today have had the advantage of better living through chemistry with the help of the Balco Laboratories and any pharmacy or cousin that dispenses performance enhancing ...