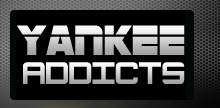 April 13, 2010 · Gavin Bedell · Jump to comments
Article Source: Bleacher Report - New York Yankees
Minutes after an emotional ring ceremony, the Yankees took the field against the Angels. World Series MVP Hideki Matsui hopped out of the visitors dugout to receive his ring, prompting a sight some will never forget. This could have been a distraction, but the Yankees got right down to business.
Pettitte took the mound in the first inning, let up a lead-off single to Eric Aybar, but proceeded to sit the rest down in order.
That was more than enough for Pettitte.
With only two tough situations in his start, Pettitte let up no runs in six innings with six strikeouts.
His biggest jam was in the top of the fifth and sixth.
In the fifth, the Angels had runners on second and third with one out. Pettitte beared down and got a pop up from Bobby Abreu and a ground ball from Torii Hunter to preserve the lead.
In the sixth, the Angels had runners on first and third. Pettitte was able to get a clutch ground ball double play off the bat of Howie Kendrick.
It was a typical Andy Pettite outing. Gritty, tough, and always competitive, he battled through the ups and downs and provided a very quality start.
As for the offense, Nick Johnson hit his first home run of the season in the top of the first against Ervin Santana.
Derek Jeter hit a solo shot of his own in the bottom of the third, giving the Yankees an early 2-0 lead.
The Yankees scrapped together seven runs over the game.
Jorge Posada led the Yankees with three hits, and five other players each had two hits.
Nick Swisher and Nick Johnson continued to work their walks. Swisher reached base three times on walks, and Nick Johnson has another two.
Swisher and Johnson have incredibly high on-base-percentages thus far this season, .483 and .429, respectively.
The lone rough spot for the Yankees was in the bottom of the ninth. David Robertson came in to finish the game, as it was not a save opportunity for Mariano Rivera with the score 7-1.
Robertson let up three straight base hits to start the inning, and then let up a grand slam to Abreu with one out.
He was then lifted for Mariano Rivera, who ended the game by striking out Torii Hunter and getting Hideki Matsui to pop out.
Kendry Morales also added a solo home run against Chan Ho Park in the top of the eighth, his second of the season.
After all was said and done, the Yankees won the game 7-5, moving to 5-2 on the season. After an emotional ring ceremony, the Yankees were not phased, and did what they do best, win.
Read more New York Yankees news on BleacherReport.com