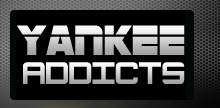 News published by
April 17, 2010
If there has been one thing that has plagued the New York Yankees the past few years, it has been their slow starts to the season. The Yanks then have ...
April 13, 2010
Minutes after an emotional ring ceremony, the Yankees took the field against the Angels. World Series MVP Hideki Matsui hopped out of the visitors dugout to receive his ring, prompting ...
April 9, 2010
The first Yankees-Red Sox series of the year seemed as intense as a playoff series. All three games were come from behind wins, and the Yankees were able to salvage ...
April 4, 2010
Hours before the Yankees home opener, Yankees hitting coach Kevin Long is faced with the challenge of duplicating his offense's 2009 season. Key hitters Johnny Damon and Hideki Matsui have ...
April 1, 2010
Here we find ourselves, days before the beginning of yet another exciting baseball season. Opening Day marks the beginning of a long journey for thirty teams that are hungry to ...
March 30, 2010
The peaks and valleys of a Major League Baseball career are inevitable and are emotionally and physically difficult on players. A 20 game hitting streak can be followed by a 1-20 ...
March 26, 2010
When you see Jesus Montero step to the plate, you see more of an NFL linebacker than a baseball player. The 6'4'', 225 pound, 20-year-old catcher hails from Guacara, Venezuela. ...
December 9, 2009
With rumors swirling throughout the baseball world at this year's Winter Meetings, the biggest move so far has been the three team trade between the Yankees, Tigers, and Diamondbacks. It is ...
November 30, 2009
Major League Baseball's offseason is famous for its high-priced free agent signings and blockbuster trades. General managers are on the phone 24/7 trying to put together the perfect roster for the ...
November 23, 2009
How many times have you heard that the Yankees buy their players? How many times have you heard how the Yankees buy their championships? You have probably heard a combination of ...