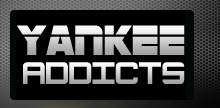 April 1, 2010 · Gavin Bedell · Jump to comments
Article Source: Bleacher Report - New York Yankees
Here we find ourselves, days before the beginning of yet another exciting baseball season. Opening Day marks the beginning of a long journey for thirty teams that are hungry to become World Series Champions. While outsiders may have different expectations, each team wants to be the last one standing.
The reigning World Series Champion New York Yankees will look to repeat with a younger, more athletic roster. Although some of the same faces are still there, others have departed. Hideki Matsui, Melky Cabrera and Johnny Damon have all found themselves on new teams.
The addition of some new players have people inside and outside of the organization excited for the upcoming season. Former Yankees Javier Vasquez and Nick Johnson have rejoined the team, and former Tiger Curtis Granderson is ready to make a splash in the Big Apple.
Another interesting storyline will be the roles of Phil Hughes and Joba Chamberlain. Hughes will begin the season as the Yankees fifth starter, and Joba finds himself in a familar role setting up Mariano Rivera.
Nonetheless, here are ten BOLD predictions that will lead the Yankees to their 28th World Championship. Some predictions may seem really bold, others maybe not; comments and disagreements are encouraged!