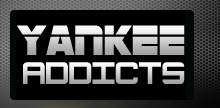 February 20, 2010 · Perry Arnold · Jump to comments
Article Source: Bleacher Report - New York Yankees
The World Champion New York Yankees will not look the same when the new season starts in Boston on April 4.
Gone from the championship team are designated hitter Hideki Matsui, left fielder Johnny Damon, center fielder Melky Cabrera, relief pitcher Brian Bruney, and relief pitcher Phil Coke.
Key additions to the team are designated hitter Nick Johnson, outfielder Curtis Granderson, outfielder Randy Winn, and starting pitcher Javier Vazquez.
This analysis will look at the Yankees' position players and offense.
To begin with, the Yankees' infield is set and is the best in all of baseball.
Three of the four infielders have won Gold Gloves (although Alex Rodriguez won his at shortstop and not third), and Robinson Cano certainly has the potential to win a Gold Glove eventually.
The Yankee outfield is much better than last year.
A debate is raging as to whether Curtis Granderson will play in center field or left. That depends completely on Brett Gardner's offensive prowess.
Granderson will play left field if Gardner can prove he can be a productive major league hitter. Both of these players have exceptional defensive speed.
If Gardner does not hit enough to stay in the lineup, the next best option appears to be Randy Winn. Winn is a superior outfielder, and his age has not slowed him down so far in the outfield.
An outfield of Winn in left and Granderson in center is better defensively than the Yankees last year with Damon in left and Melky in center.
Nick Swisher is merely adequate in right, but that was enough to get a championship last year.
Jorge Posada is 38-years-old, and he has had both leg and arm injuries in the past two seasons. Posada will be limited to 100-120 games behind the plate this year, if he remains healthy.
But he was behind the plate for only 100 games and 785 innings last season. So Jorge should spend as much time in the tools of ignorance as in 2009.
The Yankees had a very respectable backup for Posada the last few years with Jose Molina.
Molina is now gone, and the Yankees will get much younger with their backup catcher. As for now, that is Francisco Cervelli, who is only 24.
When Frankie came to the big club at a time when both Posada and Molina had gone down with leg injuries, he surprised almost everyone.
Cervelli was full of energy and very confident behind the plate and working a veteran pitching staff. Cervelli made it clear very early who was in charge when he was behind the plate and the pitchers all loved throwing to him.
So when Cervelli is behind the plate, the team is better defensively, better against the running game, and the pitchers will have more confidence in their battery mate.
So on defense, the Yankees have gotten better, with one caution—aging players.
The Yankees do still have a 38-year-old catcher. They have a shortstop who will turn 36 in June and a third baseman who will turn 35 in July and is just coming off arthroscopic hip surgery a year ago.
Jeter improved his defense greatly last season, and there is no reason to believe he will not be good again, as long as he is injury free.
ARod's hip seems to be fine, and the doctors determined that he did not need further surgery. Barring some unforeseen problem, ARod should remain very steady at third for several years.
On offense, there are more question marks. It begins with the loss of power from Matsui, Damon, and Cabrera.
Matsui was the DH in 142 games last year, hit 28 homers, and had an OPS+ of 131.
Damon played in 143 games, hit 24 home runs, and had an OPS+ of 126.
Cabrera played in 154 games, hit 13 home runs, and had an OPS+ of 99.
These three players will be replaced by Nick Johnson, Curtis Granderson, and the combo of Brett Gardner/Randy Winn.
Only Granderson can match the power of any of the three departed Yankees. Curtis played in 160 games for the Tigers last season. But he hit only .249 with an OPS+ of just 100. He did slug 30 home runs, but he struck out 141 times while walking 72 times.
Johnson had only eight homers in the 133 games he played for Washington and Florida last season.
But Johnson is an on base machine. His combined on base percentage last season was .426, which is incredible. And his OPS+ was 122.
Neither Gardner nor Winn will provide any power. But they both will add more speed than the Yankees who left.Granderson adds even more speed, giving the Yankees a better chance to run than they have seen in a long, long time.
Derek Jeter will lead off again. The Captain had one of his most productive years in 2009. He may not reach last year's heights. But if he can match his career marks of .317 with an OPS+ of 122, the Yankees will be fine at leadoff.
There is some question among observers as to whether Nick Johnson or Curtis Granderson will be the best No. 2 hitter behind Jeter. Most consider Johnson to be the most obvious choice with his incredible numbers getting on base.
But Johnson is slower and will hit into more double plays than Granderson. Even with that, it is just not likely that Yankee manager Joe Girardi will want to have a .249 hitter who struck out 141 times following Jeter.
When you consider that Granderson has a career average of only .210 against left handed pitching with an on base percentage of just .270, he will not hit second.
There is no question about the three hole or cleanup. They belong to Mark Teixeira and Alex Rodriguez for years to come.
When Posada plays, he is the natural to hit fifth. That will probably be in 100 games as catcher and as many as 30 more as the DH.
That presents a problem because when Posada DHs, Nick Johnson cannot play except very rarely to spell Tex at first.
The loss of Johnson and the insertion of Cervelli when Posada is the DH makes the lineup much shorter.
Robinson Cano is the most likely hitter to bat sixth. This writer has argued that Cano would be a great two hitter.
He hit .320 with 204 hits, 24 home runs, 85 RBI, and an OPS+ of 129 last season. His on base percentage of .352 was also very good, and he struck out only 63 times in 161 games.
But if Cano is not put in the two hole, he will most likely bat sixth.
Granderson will follow at seventh. Nick Swisher will be the eighth hitter, although Girardi showed a tendency last year to move Swish up and down all over the order.
Swisher hit 29 home runs last season and drove in 82. He struck out 126 times but also walked 97 times. He works long counts as much as any hitter in baseball. But the most logical place to put this .249 hitter in this lineup is eighth.
Gardner or Winn will bat ninth and give the Yankees what can effectively be a second leadoff hitter if they can hit.
Gardner finished the season with only 248 at bats last year. But he hit .270. If he could hit that high as a regular, he will play almost every game in center field. And if he can match his OBP of .345 of last season, he could conceivably steal 40-50 bases.
If Gardner does not hit and Winn plays left, the numbers are confusing.
Winn hit .262 last year. But he struck out 97 times while walking only 47 times, which accounted for his low OBP of only .318. He has very little power, and his OPS+ was only 75.
This Yankee lineup will hit fewer home runs than last year, even with ARod playing a full season.
The lineup will strike out more, but it will probably steal a lot more bases.
The biggest problem for the team will be playing Francisco Cervelli in 60 games when he will hit eighth.
If Granderson and Swisher both strike out 140 times and Gardner and Winn do not improve their on base percentage, a bottom four of Granderson, Swisher, Cervelli, and Gardner/Winn projects to be very weak.
Granderson and Swisher may hit 60 home runs between them, but that can't make up for 400 strikeouts, which may come from the bottom four hitters mentioned above.
Some of this may be reduced if Jesus Montero is as good as expected and comes to the team mid-way through the schedule if Cervelli is not hitting.
Some have written that this may be a "bridge" season with Cashman salivating over the possibility of Carl Crawford and Jason Werth as free agent outfielders after this year.
But Yankee fans expect to win every year. This team is better defensively. But it is considerably weaker on offense.
Read more New York Yankees news on BleacherReport.com