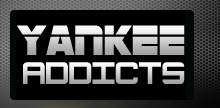 May 1, 2009 · Perry Arnold · Jump to comments
Article Source: Bleacher Report - New York Yankees
The New York Yankees have played 22 games. Their record stands at 12-10.
Of those games, Jorge Posada has started 13 games as catcher and Jose Molina has been behind the plate in nine games.
The Yankees record in games Posada has started at catcher is 7-6.
When Molina starts at catcher the Yankees are 5-4 this year.
But when Posada is catching, the Yankees have given up 101 earned runs in 120 innings.
That is a team ERA of 7.59.
When Molina starts, New York has given up only 24 runs in 74 innings for an ERA of 2.93.
Posada started behind home in each of Chien-Ming Wang's disastrous three starts so the numbers are somewhat inflated by Wangs ERA that stands at 34.50.
But Posada has also started in the last two starts by A.J. Burnett. Burnett has been much worse in the games Posada has called for him than when Molina caught the right hander.
On YES network last night as Posada caught Burnett, announcers, Michael Kay and John Flaherty openly speculated as to whether there were problems between Burnett and Posada.
Kay and Flaherty noted that the Yankees need Posada's bat in the lineup and for that reason Manager Joe Girardi is not going to fall into the pattern of letting Molina be the personal catcher for Burnett.
But the statistical pattern is startling. After 22 games, it has to be seen as more than coincidence.
If better dynamics cannot be found between Yankee pitchers and Jorge Posada the Yankee offense will be required to put up some gaudy numbers to keep the team in the game.