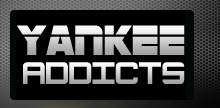 February 20, 2010 · Perry Arnold · Jump to comments
Article Source: Bleacher Report - New York Yankees
On April 4, the new baseball season will open on a Sunday night in Fenway Park. The visitors will be the New York Yankees, renewing the greatest rivalry in sports against the hometown Boston Red Sox.
Most baseball analysts will tell you that the key to winning in baseball is pitching.
With that in mind, let us analyze the pitching for the two teams most likely to compete for the pennant in the American League East.
Boston is very deep in starting pitching. They can parade Josh Beckett, Jon Lester, John Lackey, Daisuke Matsuzaka, Tim Wakefield, and Clay Buckholz to the mound.
Of course, only five of those will be in the normal rotation. But it provides depth the New York Yankees cannot match.
The Yankees have perhaps the best No. 1 in the American League in C.C. Sabathia.
For the purpose of starting an argument, in a very close contest, I am going to give the edge at No. 1 to the Yankees with C.C. over Beckett.
Sabathia finished 2009 with a 19-8 record and a 3.37 ERA. His ERA+ was 127 and his career ERA+ is 121. C.C. will not be 30 until July 27.
Beckett will turn 30 in May. He finished 2009 with a record of 17-6 with an ERA of 3.86. His ERA+ was 122. His career ERA+ is 117.
At No. 2, the Yankees have A.J. Burnett. Burnett has the kind of stuff most starting pitchers would kill for. But he has never been truly consistent and was not consistent with the Yankees last year.
Game in and game out, the edge at No. 2 has to go to Boston where Jon Lester is better than Burnett in the overall comparison.
Last season, Lester was 15-8 with an ERA of 3.41 and an ERA+ of 138. For his career his ERA+ is 128. And he just turned 26 years old.
Burnett, on the other hand, was 13-9 last season with an ERA of 4.04. His ERA+ was 106. His ERA+ for his career is only 110.
Burnett can be as good as any pitcher in the game, and he can be as erratic as the Dow Jones.
At No. 3, the Sox acquired John Lackey, long a nemesis of the Yankees when he pitched for the Angels.
The Yankees counter with Andy Pettitte, one of the most popular Yankees of the past 20 years.
Lackey is 31, finished last season with a record of only 11-8. But his ERA was 3.83 and his ERA+ was 117. His career ERA+ is 118.
Pettitte will turn 38 this season. He finished 2009 with 14 wins and eight losses with an ERA of 4.16. His ERA+ was 103. His career ERA+ is 116, but it has been five years since he compared that favorably with the other pitchers in his league. In 2005, as a Houston Astro, he had an ERA+ of 177.
Pettitte was one of the primary keys to Yankees postseason success last year as he was gritty and tough when he had to be.
But over the course of a season, any objective observer has to give the edge to Lackey over Pettitte, especially considering he is six years younger.
At No. 4, the Yankees have brought back Javier Vazquez. Vazquez was incredibly good pitching for the Atlanta Braves last season, leading Yankee fans to think he is the answer the team needed to shore up their pitching staff.
Vazquez was 15-10 in Atlanta with an incredible ERA of 2.87. His ERA+ in 2009 was 143. His career ERA+, however, is only 107. Many Yankee fans seem to overlook that.
Vazquez will be 34 this summer and has pitched most of his career in the National League. In his four seasons in the Junior Circuit, including one season in the Bronx in 2004, Javy has been less effective than his NL numbers would indicate.
In four years in the AL, Javy has 52 wins against 46 losses. In three of his four years in the AL, Javy's ERA+ was below the average 100.
Boston will most likely slot Daisuke Matsuzaka as their No. 4. He starts the season at age 29.
Boston hopes they get the 2008 Matsuzaka while Yankee fans can only wish the World Baseball Classic were being played again this year.
In 2008, Matsuzaka was almost unbeatable, finishing that season with an 18-3 record and an ERA of 2.90. His ERA+ that season was 159.
But last year he pitched a great number of innings in the Baseball Classic and was injured for most of the regular season. He started only 12 games and finished 4-6 with an ERA of 5.76.
If Matsuzaka returns to his 2008 form, the big edge at No. 4 has to go to Boston.
At No. 5, the Yankees are holding open auditions. There is talk that Chad Gaudin, Sergio Mitre, and Alfredo Aceves will all be given a chance to win this spot. But most observers believe the battle will come down to Joba Chamberlain and Phil Hughes.
There are those who are already calling for Joba to go to the pen based on his postseason excellence. But the Rules are finally moth-balled and Joba will pitch without restrictions if he wins the job.
On the other hand, the younger Hughes, age 23, will have innings limitations if he gets the job.
I am going to assume for this analysis that Joba will earn the fifth slot. He turned 24 in September. Joba started 32 games last season but was misused after the All-Star break because of the Rules.
Joba finished only 9-6 with an ERA of 4.75. His career ERA+ is 121, but that is misleading because most of that number comes from his first season when he was astounding coming out of the pen. Last year his ERA+ was only 90.
Joba Chamberlain has the stuff to be a very good, maybe great, starting pitcher. If the Yankees will leave him alone, he could be the best No. 5 in baseball.
Boston will have either Tim Wakefield or Clay Buckholz as the likely fifth starter. Either one can be impressive, but both can also disappoint their home fans.
Wakefield will be 102 years old when the season starts (actually only 43). But the knuckleballer could throw everyday if his arm was the only thing in question. Last season, he had knee problems that kept him sidelined for a big part of the season.
But he still started 21 games and finished with a record of 11-5. His ERA was not impressive at 4.58, and his ERA+ was a pedestrian 102. But he gives the Sox depth in starting pitching and features something that major league hitters hate.
Buckholz, on the other hand, is a baby compared to Wakefield. Buckholz turned 25 in September, so he is older than either Joba or Hughes.
Buckholz started 16 games for Boston in 2009 and had an ERA+ of 111. He was 7-4 with an ERA of 4.21.
At some point, the Sox will have to determine what Buckholz can do over a full season. But that may only be after Wakefield dies or Beckett takes a contract with another team after this season.
With the Yankees uncertain about their No. 5 starter at this time and with the depth the Sox have, I have to give the edge here to Boston.
The Yankees have the best No. 1 in C.C. But in each of the other four starting slots, Boston gets the edge.
Read more New York Yankees news on BleacherReport.com