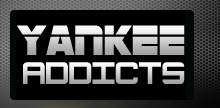 May 18, 2009 · Johnny Lawrence · Jump to comments
Article Source: Bleacher Report - New York Yankees
1. Los Angeles Angels (15-7, 3.83)
Jered Weaver and Joe Saunders pilot this well-balanced, yet injury-riddled rotation. The 26-year-old Weaver has surrendered one run or less in four of seven starts, while Saunders has paralyzed Oakland hitters in 13.1 innings (1.35 ERA) and racked up five wins.
Career minor-leaguer Matt Palmer, once an interchangeable piece, is now locked into a starter's role until he cools down from his 4-0 start. Oh, and 16 game winner Ervin Santana returned May 14th. Not too shabby, Angels.
2. Detroit Tigers (15-11, 3.92)
Arguably Detroit's ace thus far, Edwin Jackson leads the Tigers in ERA, WHIP, and innings pitched. This winter steal represents the second fist of the Tigers one-two punch—Justin Verlander rounds out the electric duo.
Verlander's recent surge has produced 44 strikeout casualties in his last 29.1 innings (0.92 ERA), helping Detroit lead the category in the AL with 180. Add rookie phenom Rick Porcello into the equation, recent winner of his last three games, and you're talking about steam few bats can catch up to.
3. Kansas City Royals (15-14, 3.88)
With Zach Greinke dominating the free world, more people lined up around theaters to see Gigli than predicted the Royals to set the starting pitching standard. Their success likely won't last forever, but the statistics are inexplicably impressive with Brian Bannister back in the mix.
A team 3.63 ERA paces both leagues, as their relievers have been equally superb.
4. Toronto Blue Jays (18-10, 4.20)
The Jays possess one of the AL's most dominant arms in Roy Halladay. Halladay ranks second to Greinke in quality starts with seven, and sits at 8-1 with 57 punchouts.
Behind him lies several talented youngsters, as Brett Cecil has made quite the impact in his first three big league starts (2-0, 1.80, three quality starts). It's safe to say they don't miss overpriced free agent A.J. Burnett.
5. Texas Rangers (17-9, 4.37)
Though statistically mediocre, Texas pitching ranks first in the "Wait, They're Not Giving Up Nine Runs A Game Anymore?" race. Maybe team president Nolan Ryan's pitching philosophy is beginning to sink in.
Ryan recently commented on his team's pitching at The Ballpark in Arlington, "People are saying they can't pitch in this ballpark…they can pitch in this ballpark if you keep the ball down and change speeds and move the ball in and out." Kevin Millwood's resurgence is proof Ryan's philosophy holds legitimacy; he has posted a 2.10 ERA in 30 innings.
6. Seattle Mariners (11-13, 4.49)
While it's not earth-shattering Seattle's staff ranks in the middle, it just goes to show how strong the Big Three have been despite frequent sabotage attempts by Chris Jakubauskas (31.1 IP, 7.47 ERA) and Carlos Silva (28.2 IP, 8.48 ERA).
Felix Hernandez, Eric Bedard, and Jarrod Washburn are each pitching like it's their contract years (It is for Bedard and Washburn). In 140 innings, the Big Three boasts a 3.08 ERA with 129 strikeouts.
7. Oakland Athletics (7-14, 4.78)
Oakland may trot out the best hurlers in mid-to-late innings, but unfortunately their rotation is just plain average. Youngsters Dallas Braden, Trevor Cahill, and Josh Outman have shown competency at times, but their inconsistencies suggest they may need to catch the bus back to Triple-A Sacramento.
It doesn't help that Dana Eveland is offering up first base at an astronomical rate—24.1 innings, 39 hits, 15 walks.
8. Minnesota Twins (12-13, 5.04)
Francisco Liriano and Scott Baker are driving the Twins season into the Mississippi. Staff stability under pitching coach Rick Anderson has sunk to an all-time low, as their supposed top-flight starters are on pace to set new career lows in many categories.
Both struggling back from injury, they will need to right the ship quick before succumbing once again to the disabled list.
9. Tampa Bay Rays (15-16, 5.17)
Each time Andy Sonnanstine takes the mound is a protest to Tampa management that they exported the wrong fifth starter to Detroit (Edwin Jackson). Beyond the failures of Sonnanstine, hitters have been clubbing Scott Kazmir with ferocity. Unable to identify the source of his mechanical issues, the Rays will flounder until his fortune reverses.
10. New York Yankees (11-11, 5.32)
Chien-Meng Wang skewed New York's stats in just six innings when he surrendered 23 earned runs. With Phil Hughes stepping in, the hole still has not been filled. Though he dominated Detroit for six innings in his season debut, his three previous appearances leave much to be desired.
New $82.5 million man A.J. Burnett, who opted out of his Toronto contract, is unsurprisingly not living up to his newest bind, offering up six homers in 31.2 innings. Luckily for the Yankees, Sabathia is starting to pitch like he did with Milwaukee.
11. Cleveland Indians (10-16, 5.49)
Cliff Lee is the sole bright spot in this Major League imitation of a staff. Calls for Carl Pavano's head are coming from all corners of Cleveland and Fausto Carmona has been about as accurate as a paper air plane in gale force winds.
Recent call-up Jeremy Sowers can't be relied upon to turn things around and Anthony Reyes left his arm in St. Louis. Cleveland's rotation is reminiscent of last year's Detroit staff.
12. Chicago White Sox (11-15, 5.42)
What has gotten into Gavin Floyd? In 2008, he led the White Sox to the playoffs when he sealed the play-in game. Scuffling with a 7.71 ERA in nearly 45 innings, fans are beginning to throw around the phrase "one-hit wonder."
Another disappointment, Jose Contreras, has been largely ineffective since 2006. The further Floyd and Contreras drag Chicago down, the tougher it will be for Chicago to jump the Twins, Tigers, and Royals.
13. Baltimore Orioles (10-16, 5.73)
Baltimore's staff wasn't expected to do great things this year. And they're not. Righty Adam Eaton strangely still collects a major league paycheck despite a 6.10 ERA since 2005 (7.93 ERA this year).
Opposing hitters bat a league-high .301 and strike out very seldom against manager Dave Trembley's bunch. Rich Hill's 3-2 victory over the red-hot Royals on Saturday was the first time an Orioles starter surrendered fewer than three runs since May 10.
14. Boston Red Sox (11-12, 5.84)
It appears all season long, the AL's two highest-payrolls will duke it out for the "Who's Rotation Is More Colossally Disappointing?" crown. Another New York versus Boston showdown. It's a tight race, but…ok, I'll stop trying to be cute. Boston's rotation has been downright awful.
Maybe Josh Beckett needs the Cleveland Indians to fly in his ex-girlfriend to sing the national anthem every fifth day. Dice-K should return soon to the most disappointing bunch in baseball.