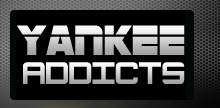 News published by
August 24, 2009
Coca Cola.Mercedes-Benz.The New York Yankees.No other organization in baseball has built a brand quite like the Yankees.Twenty-six World Championships, 57 seasons with at least 90 wins, 39 Hall of Fame ...
June 2, 2009
  1. Detroit Tigers (23-16, 3.84) Justin Verlander, Rick Porcello, and Edwin Jackson formed the best May threesome in baseball. With a combined 14-2 record, their stat line indicated their ...
May 18, 2009
1. Los Angeles Angels (15-7, 3.83) Jered Weaver and Joe Saunders pilot this well-balanced, yet injury-riddled rotation. The 26-year-old Weaver has surrendered one run or less in four of seven starts, ...