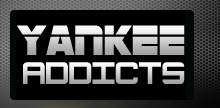 June 2, 2009 · Johnny Lawrence · Jump to comments
Article Source: Bleacher Report - New York Yankees
1. Detroit Tigers (23-16, 3.84)
Justin Verlander, Rick Porcello, and Edwin Jackson formed the best May threesome in baseball. With a combined 14-2 record, their stat line indicated their utter domination: 113.2 IP, 82 H, 112 K, 1.82 ERA.
Verlander and Porcello became the first Tiger tandem to go 5-0 in a month since Brian Moehler and Steve Sparks in 2000. Verlander leads the AL with a 11.68 K/9 ratio.
Previously Ranked: (2)


2. Seattle Mariners (15-18, 4.06)
Though 26-year-old Justin Vargas has given up a long ball in each of his four starts, he has only given up five earned runs in 27.1 innings (1.65 ERA).
The M's Big Three have stomped the pedal to the floor after a few rough outings, extending their April dominance. An anemic offense, unfortunately, has stolen multiple victories from Felix Hernandez, Eric Bedard, and Jarrod Washburn.
Previous Rank: (6)
3. Los Angeles Angels (19-12, 4.12)
Through 10 starts, Joe Saunders handcuffed the AL similar to how Scott Howard shut down the Dragons in Teen Wolf, ugly and unapologetic.
Jered Weaver has pulverized hitters into bits with a devastating slider and four-seam fastball. Saunders and Weaver hope to continue their run of eminence against Toronto and Detroit this week, as John Lackey hopes to round into form in his third appearance off the disabled list.
Previous Rank: (1)
4. Kansas City Royals (17-19, 4.04)
Zach Greinke has continued to produce eye-popping numbers. Yet to surrender a homer, he ranks first overall in wins (8), strikeouts (93), and earned run average (1.10).
Behind their stud, Brian Bannister and Gil Meche have struggled with consistency, while Kyle Davies and Luke Hochevar have been atrocious. Baseball's top draft pick in 2006, Hochevar, had impressed at Triple-AAA Omaha with a 1.17 ERA in seven starts, but has floundered thus far through three with the big club (.347 batting average against).
Previous Rank: (2)
5. Toronto Blue Jays (21-17, 4.26)

Questions of experience and health lie beyond Toronto horse Roy Halladay. Without the Cy Young candidate, Blue Jay starters post a mediocre 4.70 ERA and 13-16 record.
Brian Tallett has shown tremendous upside with a 3.00 ERA and 30 punchouts in 39 May innings.
Previous Rank (4)
6. Texas Rangers (21-14, 4.34)
Scott Feldman has emerged as a force in the Rangers' rotation. Still working with a "0" in the loss column, he has not allowed more than three runs in his seven starts.
Brandon McCarthy tossed a shutout against Houston on May 24 and is beginning to consistently show the flash many in the White Sox organization predicted. If McCarthy harnesses his control, he will be fit to lead the staff along with Kevin Milwood.
Previous Rank (5)
7. Chicago White Sox (18-18, 4.56)
The biggest movers in this most recent Rotation Rankings, Chicago hurlers have improved their ERA by almost eighty points.
Clayton Richard has created a stir since replacing the ineffective Jose Contreras. In his past 20 innings, Richard has yielded just 13 hits with a 1.34 ERA. Looking past the 25-year-old, Mark Buerhle may appear in his fourth All-Star game if he continues to limit opponents to a .298 on-base percentage.
Fortunes have reversed on the South Side.
Previous Rank (12)
8. New York Yankees (19-12, 4.78)
Despite upper-management babying, Joba Chamberlain has managed to stay on the mound long enough to establish himself in an adult league. Manager Joe Girardi received permission from his watcher-overs to let Chamberlain pitch until the ninth inning on Monday, as he sent down Indian after Indian using 105 pitches.
Also shaping up nicely is CC Sabathia. Almost New York's early season goat, the University of Hawai'i football decommit has barreled through at least seven innings each of his last five starts. Things are unmistakably trending up in the Yankee rotation.
Previous Rank (10)
9. Oakland Athletics (11-20, 4.75)
The reliable Dallas Braden entered his last start at the bottom of the league in run support, getting 2.67 runs per nine innings. Despite this, he has emerged as the only legitimate piece of the Athletics' rotation and few realize his ERA is on par with the likes of Justin Verlander (3.63).
On May 5, Dana Eveland was finally demoted after a horrendous few weeks and youngster Brett Anderson has watched more balls fly over the fence than games he has pitched. Oakland fans look to be in for a long summer when Braden is not on the bump.
Previous Rank: (7)
10. Minnesota Twins (19-20, 4.95)
The story Francisco Liriano's drought sparked headlines across baseball, soliciting the question "should he be shifted to the bullpen?" Johan Santana-like in talent, but Adam Eaton-like in production, a reduced role may be waiting in the wings for the scuffling Dominican (2-7, 6.60 ERA).
Unexpected contributor Anthony Swarzak has breathed fresh air into the Twins' embattled rotation through two quality starts, but management expected little from Swarzak this season. Nick Blackburn and Kevin Slowey need to continue their progress if Minnesota even wants a sniff at the playoffs.
Previous Rank (8)
11. Tampa Bay Rays (20-21, 5.00)
Tampa recalled All-World lefty David Price on May 24, and in two starts, he has struck out nearly two batters per inning (17 K's in 9IP).
Matt Garza's sudden reappearance in May bolstered the staff many believed was too deep in 2008. The opposition rakes at a measly .205 clip against Garza and he holds lefties to a minuscule .179 average. The Rays will ascend as far as their starters can take them.
Previous Rank (9)
12. Boston Red Sox (22-16, 5.24)
Ace Josh Beckett is beginning to catch up to his $11-million-plus contract. In his past three starts, he has yielded just three runs in 22 innings (1.22 ERA), and through his previous six, he has mowed down at least five batters. Paired with Beckett, Red Sox fans hope Jon Lester's 12 strikeout performance Sunday against Toronto is a sign of things to come.
Through two starts, conversely, Daisuke Matsuzaka has yielded 14 hits and five walks in 10 innings since being pulled off the shelf. Perhaps Dice-K is beginning to really miss Japanese cooking.
Previous Rank (14)
13. Baltimore Orioles (15-20, 5.31)
On par with Cleveland's unreliability, the O's staff lacks a true stud. Baltimore's highest ranked AL ERA-leader, Jeremy Guthrie (38th), cannot seem to establish an identity. From effective to ineffective, he bounces back and forth more than Pennsylvania Senator Arlen Specter.
The hamstring of Koji Uehara decided to sideline him for a couple weeks, transforming the Baltimore's rotation into a more desperate version of their 2008 counterpart.
Previous Rank (13)


14. Cleveland Indians (12-19, 5.61)
Nine "pitchers" have started games for Cleveland this year, and only Cliff Lee has been able to positively contribute in the AL's worst troop of tossers. Without Lee, the Indians' starting ERA is a shameful 6.53.
After turning to dust in recent weeks, it is all but certain Fausto Carmona looked back at Sodom and Gomorrah—his 6.60 ERA ranks worst among AL qualified starters. Cleveland fans hope the front office will realize Zach Jackson was the quintessential "throw-in" in the Sabathia move.
Previous Rank (11)