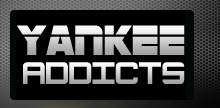 March 13, 2012 · Harold Friend · Jump to comments
Article Source: Bleacher Report - New York Yankees
Alex Rodriguez has learned. One of baseball's all-time greats demonstrated class and character with his response to Donald Trump's ridiculous comparison.
When Debbie Gibson, who used to be popular during the 1980s, said she didn't care who received the credit as long as her team won, Trump revealed that he is the antithesis of Derek Jeter, Lou Gehrig and Alex Rodriguez.
"That's all about winning; that's a Derek Jeter-type statement," Trump said. "We love Derek. That's not an A-Rod statement; it's a Derek statement."
When he was asked to respond to the ridiculous attempt at creating controversy where none existed, Rodriguez merely said, with a smile, "Just baseball."
Rodriguez refuses to be drawn into ludicrous discussions that have nothing to do with baseball and which clearly illustrate the character of the individual attempting to foment the disagreement.
The fact that A-Rod was willing to move to third base from shortstop when he was traded to the New York Yankees refutes any claims that he is not a team player. Rodriguez was well on the way to becoming the second greatest shortstop ever when he became the greatest third baseman in Yankees' history.
From 1996-2003, as a shortstop, Rodriguez batted .311/.387/.590, averaging 46 home runs and 130 RBIs over a 162-game season.
Honus Wagner batted .328/.391/.467 in the dead ball era. It doesn't matter if one prefers Wagner or Rodriguez. There is no doubt that Rodriguez and Wagner would be ranked as the top two shortstops.
When he joined the Yankees, A-Rod became part of Derek Jeter's team. Jeter rightfully never considered abdicating his shortstop position and Rodriguez never made any attempts or demands for him to do so.
The Yankees won the 2009 World Series.
In the ALDS, Rodriguez batted .455 with a pair of home runs as the Yankees swept the hapless Minnesota Twins.
In the ALCS, Rodriguez batted .429 with three home runs as the Yankees beat the Los Angeles Angels in six games.
In the World Series, Rodriguez batted .250, but had a .423 on base percentage and a .550 slugging percentage.
Rodriguez was enough of a winner to admit that he had used substances MLB frowns upon. His remorse was real.
If Donald Trump owned the Yankees, chances are that as soon as soon as they went into a slump, he would pull "a Ted Turner" and take over as manager.
Of course, Trump wouldn't want any credit if the Yankees won. Didn't he agree with Debbie Gibson that she didn't care who received the credit for winning?
Read more New York Yankees news on BleacherReport.com