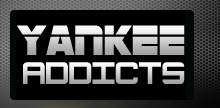 May 31, 2009 · Micheal Robinson · Jump to comments
Article Source: Bleacher Report - New York Yankees
Since Alex Rodriguez returned to the New York Yankees lineup on May 8, the team has an outstanding record of 16-5.
While he isn't directly responsible for every win, he did help win three games on his own.
He hit a three-run shot in his first swing back, propelling the Yankees to a 4-0 victory over the Baltimore Orioles on May 8.
After A-Rod's return, Orioles pitcher Jeremy Guthrie spoke out, "What a hitter. What a player," Guthrie said. "To come off the DL like that, I throw that fastball on the black inside, and he just takes it for a home run…It's a real special at-bat for him. He stepped up in the big moment right there, center stage, and does what he does best."
On May 16, against the Minnesota Twins, in the bottom of the 11th inning, in only his second game at the new stadium in the Bronx, he smashed a two-run walk-off homer to win the game.
After the walk-off homer, Rodriguez said, "For me, I gave you guys something to talk about and write about in the 11th inning and I didn't have to open my mouth, and that's kind of the way I want things, you know. Stay out of my own way."
Most recently, on May 23, a two-run game saving homer off Philadelphia Phillies closer Brad Lidge kept the Yankees alive who went on to win the game.
On May 25, in his return to The Ballpark in Arlington against the Texas Rangers, Rodriguez answered the boos from the crowd with a 5-for-5 game at the plate, matching his career high.
Mark Teixeira has also seen his numbers increase drastically with the return of Rodriguez.
Without A-Rod in the lineup, Teixeira played 25 games and had a .198 batting average with five HR.
With A-Rod in the lineup, in 20 games, he has a .363 batting average with 10 HR.
It looks as if the team chemistry has taken a 180 and is on another level, one not seen in quite some time.
From walk-off wins to pies in the face, things are looking brighter then ever in the Bronx.
The team is having fun, and it shows, as the Yankees are leaders of the American League East for the first time since 2006, with a 29-20 record. They hold a one-and-a-half game lead over the Boston Red Sox and Toronto Blue Jays.
In reference to Rodriguez, "He's been a huge part of this little run we've been on," Yankees manager Joe Girardi said after a win on May 19.
Bottom line, as a Yankee fan, you have to learn how to like this guy for the time being. He is doing all the right things.
The thing I have noticed, which is hard from my perspective, is that it seems like he is one of the guys again and having a good time.
I would almost imagine that he isn't staying out as late as usual and is spending more time in the batting cages instead of night clubs.
All of my friends know how passionate I am about Yankees baseball and my favorite player. Some think I am insane for backing up and respecting a player who has let me down so many times.
In retrospect, Rodriguez has lifted me up more times then he has let me down. The way he plays the game, the big moments he has had, its all been worth it to me.
We all know the mistake that he made and the fact he owned up to it, yeah he got caught, but he didn't duck and run like other players, he faced the music.
Right now, for the sake of argument, I am throwing his stats out the window, they aren't important, for many reasons. Winning games is important, and he is contributing to that.
Due to his hip injury and the missed time, Rodriguez has had little time to contribute to the team.
A 12-time All-Star, with his PED admission, fans are taking notice, as early poles are out on All-Star voting. Rodriguez is around 50,000 votes shy of making the trip to St. Louis in July, which would be the first All-Star game missed since 1999.
All-Star voting according to MLB.com as of May 27:
Evan Longoria (Tampa Bay Rays) 664,060
Michael Young (Texas Rangers) 292,025
Alex Rodriguez (New York Yankees) 245,414
With many years left in the league, Rodriguez wants to right his wrongs. A World Series ring is his ultimate goal, and with the way it looks, it is in sight.
I believe in Alex Rodriguez, maybe you should start. I don't want you to miss out on all of the fun.
Various quotes used from Yahoo.com via the Associated Press.